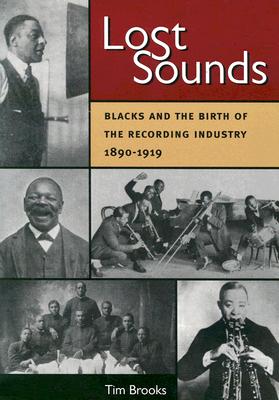 Lost Sounds: Blacks and the Birth of the Recording Industry, 1890-1919 (Paperback)
Blacks and the Birth of the Recording Industry, 1890-1919
University of Illinois Press, 9780252073076, 634pp.
Publication Date: July 8, 2005
Description
The first in-depth history of the involvement of African Americans in the early recording industry, this book examines the first three decades of sound recording in the United States, charting the vigorous and varied roles black artists played in the period leading up to the Jazz Age. Applying more than thirty years of scholarship, Tim Brooks identifies key black artists who recorded commercially in a wide range of genres and provides illuminating biographies of some forty of these audio pioneers. Brooks assesses the careers and impacts, as well as analyzing the recordings, of figures including George W. Johnson, Bert Williams, George Walker, Noble Sissle, Eubie Blake, the Fisk Jubilee Singers, W. C. Handy, James Reese Europe, Wilbur Sweatman, Harry T. Burleigh, Roland Hayes, Booker T. Washington, and boxing champion Jack Johnson, as well as a host of lesser-known voices. Because they were viewed as "novelty" or "folk" artists, nearly all of these African Americans were allowed to record commercially in their own distinctive styles, and in practically every genre: popular music, ragtime, jazz, cabaret, classical, spoken word, politics, poetry, and more. The sounds they preserved reflect the actual emerging black culture of that tumultuous and creative period. The stories gathered here give a previously unavailable insight into the early history of the recording industry, as well as the racially complex landscape of post-Civil War society at large. Lost Sounds also includes Brooks's selected discography of CD reissues, and an appendix from Dick Spottswood describing early recordings by black artists in the Caribbean and South America.

Advertisement