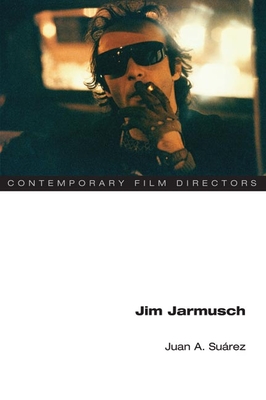 Jim Jarmusch (Contemporary Film Directors)
Paperback

* Individual store prices may vary.
Description
The first major English-language study of Jarmusch
At a time when gimmicky, action-driven blockbusters ruled Hollywood, Jim Jarmusch spearheaded a boom in independent cinema by making now-classic low-budget films like Stranger than Paradise, Down by Law, and Mystery Train. Jarmusch's films focused on intimacy, character, and new takes on classical narratives. His minimal form, peculiar pacing, wry humor, and blank affect have since been adopted by directors like Sofia Coppola, Hal Hartley, Richard Linklater, and Tsai Ming-liang. 
Juan A. Suárez identifies and describes an abundance of aesthetic influences on Jarmusch, delving into the director's links to punk, Structural film, classic street photography, hip-hop, beat literature and art, and the New York pop vanguard of the late 1970s. At the same time, he analyzes Jarmusch's work from three mutually implicated perspectives: in relation to independent filmmaking from the 1980s to the present; as a form of cultural production that appropriates existing icons, genres, and motifs; and as an instance of postmodern politics.
A volume in the series Contemporary Film Directors, edited by James R. Naremore
Praise For Jim Jarmusch (Contemporary Film Directors)…
"This insightful and lively book is wonderfully freighted with information and ideas. The Jarmusch fan will find that the films are covered in appropriate depth and detail, while those interested in the place of current film within broader cultural developments will find much valuable and informative reading."--R. Barton Palmer, author of Joel and Ethan Coen
"Suárez thoroughly analyzes in chronological order the Jarmusch oeuvre."--
Library Journal
University of Illinois Press, 9780252074431, 216pp.
Publication Date: August 13, 2007
About the Author
Juan A. Suárez is an associate professor of American studies and English at the University of Murcia, Spain. He is the author of Pop Modernism: Noise and the Reinvention of the Everyday and other books.
 
or
Not Currently Available for Direct Purchase