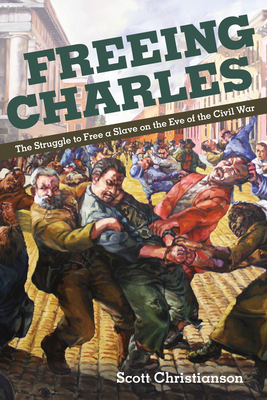 Freeing Charles
The Struggle to Free a Slave on the Eve of the Civil War (New Black Studies Series)
Paperback

* Individual store prices may vary.
Description
Freeing Charles recounts the life and epic rescue of captured fugitive slave Charles Nalle of Culpeper, Virginia, who was forcibly liberated by Harriet Tubman and others in Troy, New York, on April 27, 1860. Scott Christianson follows Nalle from his enslavement by the Hansborough family in Virginia through his escape by the Underground Railroad and his experiences in the North on the eve of the Civil War. This engaging narrative represents the first in-depth historical study of this crucial incident, one of the fiercest anti-slavery riots after Harpers Ferry. Christianson also presents a richly detailed look at slavery culture in antebellum Virginia and probes the deepest political and psychological aspects of this epic tale. His account underscores fundamental questions about racial inequality, the rule of law, civil disobedience, and violent resistance to slavery in the antebellum North and South.  As seen in New York Times and on C-Span's Book TV.
Praise For Freeing Charles: The Struggle to Free a Slave on the Eve of the Civil War (New Black Studies Series)…
 "Christianson explores the complications of the law, and he captures the drama of Nalle's escape and attempted recapture and the complexities of citizens willing to defy the law for a higher principle."--Booklist
"This is a welcome volume and should stimulate researchers to unearth other important, though seemingly minor, events that preceded the nation's bloody civil war."--The Journal of African American History
"A master storyteller, Christianson has a novelist's eye for picturing the places, events, and forgotten people who figured in his narrative. . . . A significant addition to the story of the coming of the Civil War."--
Civil War Book Review
"Christianson's beautifully written story of fugitive slave Charles Nalle's dramatic escape, recapture, and then rescue is one of the long forgotten yet incredibly important events in our nation's history. Christianson serves up history like a master storyteller: a great dose of drama, tragedy, triumph, love, illicit sex, and a cast of characters that will surprise and delight."--Kate Clifford Larson, author of
Bound for the Promised Land: Harriet Tubman, Portrait of an American Hero
"Extensively researched and finely analyzed,
Freeing Charles
tells the gripping story of a fugitive slave rescue that has largely escaped our attention until now."--Richard J. M. Blackett, author of
Divided Hearts: Britain and the American Civil War
 "A thoughtful biography."--
The Journal of Southern History
 "What is more courageous, militancy or a middle-class life? Fleeing for freedom or remaining loyal to a family? It is one of the virtues of [this] book that [it] raise[s] such questions without insisting on an answer."--
The Wall Street Journal
"In this magnificently conceived and subtly rendered book, Christianson not only brings to life the men and women of the Underground Railroad as they carry out one of the most dramatic rescues of a fugitive slave on record, he also guides us unflinchingly along the heartbreaking fault line of racial relations that warped life in America--in both the North and the South--in the age of slavery."--Fergus M. Bordewich, author of Bound for Canaan: The Underground Railroad and the War for the Soul of America
"Absorbing and eminently readable. With a large cast of characters, this stirring historical narrative centered on one incident also uses a wide-angle lens to reveal many other facets of slavery's impact during the antebellum years."--Jean M. Humez, author of
Harriet Tubman: The Life and the Life Stories
"A vivid and arresting biography that focuses on one mid-nineteenth century man and his family, whom slavery constantly imperiled even after they freed themselves not only once, but several times. It is such stories that help us learn how much was at stake for anyone held to slavery and the lengths to which some white people would go to reverse attempts at self-emancipation."--Philip J. Schwarz, author of
Migrants against Slavery: Virginians and the Nation
University of Illinois Press, 9780252076886, 240pp.
Publication Date: January 19, 2010
About the Author
Scott Christianson is the author of With Liberty for Some: 500 Years of Imprisonment in America and many other works. He lives in New York state.
or
Not Currently Available for Direct Purchase