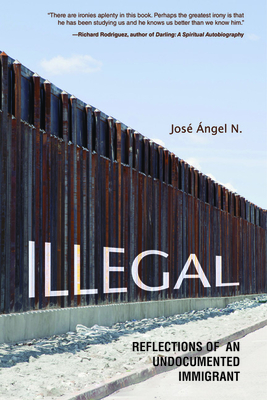 Illegal (Paperback)
Reflections of an Undocumented Immigrant (Latinos in Chicago and Midwest)
University of Illinois Press, 9780252079863, 136pp.
Publication Date: January 24, 2014
Other Editions of This Title:
Hardcover (1/28/2014)
Hardcover (1/24/2014)
* Individual store prices may vary.
Description
A day after N. first crossed the U.S. border from Mexico, he was caught and then released onto the streets of Tijuana. Undeterred, N. crawled back through a tunnel to San Diego, where he entered the United States forever. Illegal: Reflections of an Undocumented Immigrant is his timely and compelling memoir of building a new life in America. Authorial anonymity is required to protect this life.
Arriving in the 1990s with a 9th grade education, N. traveled to Chicago where he found access to ESL classes and GED classes. He eventually attended college and graduate school and became a professional translator.
Despite having a well-paying job, N. was isolated by a lack of official legal documentation. Travel concerns made big promotions out of reach. Vacation time was spent hiding at home, pretending that he was on a long-planned trip. The simple act of purchasing his girlfriend a beer at a Cubs baseball game caused embarrassment and shame when N. couldn't produce a valid ID. A frustrating contradiction, N. lived in a luxury high-rise condo but couldn't fully live the American dream. He did, however, find solace in the one gift America gave him–-his education.
Ultimately, N.'s is the story of the triumph of education over adversity. In Illegal he debunks the stereotype that undocumented immigrants are freeloaders without access to education or opportunity for advancement. With bravery and honesty, N. details the constraints, deceptions, and humiliations that characterize alien life "amid the shadows."
About the Author
N. is an undocumented immigrant. He lives and works in Chicago.
Praise For Illegal: Reflections of an Undocumented Immigrant (Latinos in Chicago and Midwest)…
"With near-poetic language, this undocumented immigrant from Mexico. . . . describes his years-long journey from harrowing border crossing to proud husband, father and home owner."--Library Journal

"We do not have enough courageous writers who take the risk of telling their stories while undocumented. Illegal offers important testimony of the type of life an undocumented immigrant can lead when they have opportunities like N's. From the moment I began to read it I could not put it down."--Rita E. Urquijo-Ruiz, author of Wild Tongues: Transnational Mexican Popular Culture
"Because we speak of them in the collective--as 'illegal immigrants' or 'the undocumented'--it is shocking to be addressed by a singular voice. Nearly twenty years ago José Ángel N. entered the United States under cover of darkness from his native Mexico. Now he addresses us in elegant American English. He is the cosmopolite in a country where he remains 'the illegal.' He works as a translator; he reads German philosophy; he is married to an American wife; they have a young daughter. The view from the skyscraper window is of Lake Michigan; on his computer screen, the face of his mother appears in her green house in Guadalajara, Mexico. There are ironies aplenty in this book. Perhaps the greatest irony is that he has been studying us and he knows us better than we know him."--Richard Rodriguez, author of Darling: A Spiritual Autobiography

"N. is able to put a truly human face on the 'shadow' that he is in our society and show us that he, along with the other eleven million undocumented people who live and toil in our nation, deserve to come out into the sun"--el Beisman
"A memoir from a decent man living in the shadows, evading questions and telling lies, presented here anonymously since to reveal his identity would mean to risk arrest and deportation. . . . An utterly believable close-up picture of one illegal immigrant's life in the United States." -- Kirkus Reviews
 
"With great eloquence and pathos, N. draws on his daily life and references philosophers from Socrates to Kant to describe the netherworld of the undocumented.  He takes solace in his education and his gift for reflection as he watches the slow and frustrating process of immigration reform.  N. gives voice to the millions who, of necessity, live in the shadows." -- Booklist