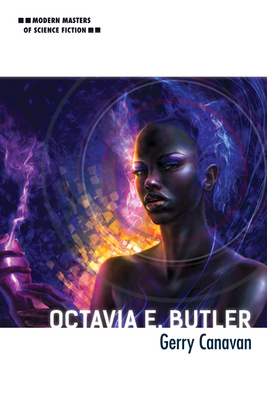 Octavia E. Butler (Modern Masters of Science Fiction)
Paperback

* Individual store prices may vary.
Other Editions of This Title:
Hardcover (10/31/2016)
Description
"I began writing about power because I had so little," Octavia E. Butler once said. Butler's life as an African American woman--an alien in American society and among science fiction writers--informed the powerful works that earned her an ardent readership and acclaim both inside and outside science fiction.
Gerry Canavan offers a critical and holistic consideration of Butler's career. Drawing on Butler's personal papers, Canavan tracks the false starts, abandoned drafts, tireless rewrites, and real-life obstacles that fed Butler's frustrations and launched her triumphs. Canavan departs from other studies to approach Butler first and foremost as a science fiction writer working within, responding to, and reacting against the genre's particular canon. The result is an illuminating study of how an essential SF figure shaped themes, unconventional ideas, and an unflagging creative urge into brilliant works of fiction.
Praise For Octavia E. Butler (Modern Masters of Science Fiction)…
"Canavan is an excellent critic and formidable researcher, and this book, written in accessible, quick-moving prose, is rich with perspectives and ideas. The best sections detail the stories Butler didn't publish or complete, using those fragments to dive deeper into the texts that she finished. Like all good criticism, the book is both authoritative and invitational. Read it and you'll marvel at the arguments and feel invited to develop your own." --New York Times

"For those of us who cannot make the journey to the archive, Octavia E. Butler serves as a more-than-adequate substitute and entry into this treasure trove of Butler's writings."--Los Angeles Review of Books

"A must-read for scholars of [science fiction], Canavan's scholarship is both a work of sharply dedicated research and a loving tribute to one of [science fiction's] most creative geniuses. Highly recommended."--Library Journal

"This book deserves a place of honor on the shelf of every fan or scholar of Butler's work and should be acquired by every institution with the resources to do so, from the smallest local library to the most heavily endowed research university."--SFRA Review

"Both fans and scholars will appreciate this vivid in-depth study of an internationally acclaimed science fiction author's life and work."--Shelf Awareness

"A deep reading of the work of the late science-fiction master."--Kirkus Reviews

"Canavan delves into Butler's personal papers, housed at the Huntington Library, in order to illuminate the muses behind this groundbreaking author whose limited public persona was typically described by words such as shy and awkward. Canavan's careful and even reverent handling of Butler's journals and diaries, notes, drafts, and revisions reveals a lonely woman most at home in worlds of her own making, a woman whose drive and passion were not just to write, but to sell what she wrote." --Resources for American Literary Study
"This excellent, comprehensive study sheds new light on the process and philosophy of one of the most important authors of our time."--Publishers Weekly

"[An] intense critical biography."--Times Literary Supplement

"A compelling and intimate portrait of one of the century's most important writers. Canavan's thorough archival research introduces us to new aspects of Butler's life and thought and provides the first comprehensive overview of her career. He writes with grace and passion that is equal to the stature of his subject. Highly recommended."--Sherryl Vint, co-editor of Science Fiction Studies

"There are great depths to Butler's work, and Canavan has given us a torch in order to better see those depths. There's a lot of valuable analysis of how Butler's fiction ties in with her personal life. Because of the personal nature of the book, what we have here is anything but a dry academic exercise."--Michael Levy, coeditor of Extrapolation

"Sensible and well organized. A book that situates Butler's fiction at the junction of biocritical and genre studies, showing how Butler's experience of blackness in America led her to explore and exploit the 'messiness' of science fiction."--Lisa Yaszek, coeditor of Sisters of Tomorrow: The First Women of Science Fiction
University of Illinois Press, 9780252082160, 248pp.
Publication Date: October 31, 2016
About the Author
Gerry Canavan is an assistant professor of twentieth- and twenty-first-century literature at Marquette University. He is a coeditor of The Cambridge Companion to American Science Fiction .
or
Not Currently Available for Direct Purchase