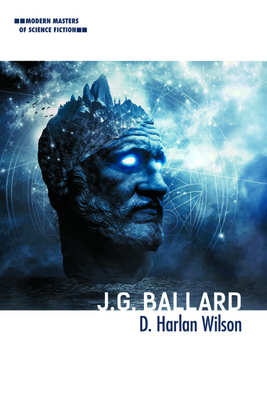 J. G. Ballard (Modern Masters of Science Fiction)
Paperback

* Individual store prices may vary.
Other Editions of This Title:
Hardcover (11/10/2017)
Description
Prophetic short stories and apocalyptic novels like The Crystal World made J. G. Ballard a foundational figure in the British New Wave. Rejecting the science fiction of rockets and aliens, he explored an inner space of humanity informed by psychiatry and biology and shaped by Surrealism. Later in his career, Ballard's combustible plots and violent imagery spurred controversy--even legal action--while his autobiographical 1984 war novel Empire of the Sun brought him fame. D. Harlan Wilson offers the first career-spanning analysis of an author who helped steer SF in new, if startling, directions. Here was a writer committed to moral ambiguity, one who drowned the world and erected a London high-rise doomed to descend into savagery--and coolly picked apart the characters trapped within each story. Wilson also examines Ballard's methods, his influence on cyberpunk, and the ways his fiction operates within the sphere of our larger culture and within SF itself.
Praise For J. G. Ballard (Modern Masters of Science Fiction)…
"Elegantly argued, intuitively organized, and sure to be relevant to Ballardian scholars. . . . A testament to Ballard's continued relevance."--Library Journal

"Wilson has put together an impressive book. There is something intuitive and effortless in his assessment of Ballard's work, and around every corner are oh-my-goodness-how-could-anyone-have-possibly-missed-that moments of discovery. For fans and critics alike, this is a must-read." --American Book Review
 
"Scholars and fans of Ballard will find this study comprehensive and stimulating."--Publisher's Weekly

"Wilson interweaves the biographical elements with rich and insightful analysis of Ballard's oeuvre, from the novels to the short stories, plus commentary on his non-fiction work."--Amazing Stories
 
"J. G. Ballard is an engaging and comprehensive study that marshals a constellation of insights around a single, robust argument. No scholar writing on Ballard in future will want to be without it. The book would also serve as an ideal introduction to Ballard for undergraduates or others coming to his work for the first time."--The British Society for Literature and Science

"Energetically written and deeply informed, Wilson's study is a highly recommended resource for readers needing either a convenient refresher of Ballard's entire oeuvre or a singular entry point into Ballard's fascinating life work." --SFRA Review
 
University of Illinois Press, 9780252082955, 214pp.
Publication Date: November 10, 2017
About the Author
D. Harlan Wilson is a professor of English at Wright State University "Lake Campus. He is the author of Cultographies: They Live, Technologized Desire: Selfhood and the Body in Postcapitalist Science Fiction , and over twenty novels and fiction collections.
or
Not Currently Available for Direct Purchase