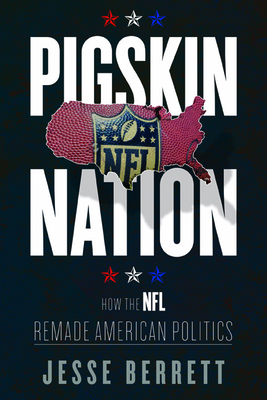 Pigskin Nation
How the NFL Remade American Politics (Sport and Society)
Paperback

* Individual store prices may vary.
Other Editions of This Title:
Hardcover (4/11/2018)
Description
Cast as the ultimate hardhats, football players of the 1960s seemed to personify a crewcut traditional manhood that channeled the Puritan work ethic. Yet, despite a social upheaval against such virtues, the National Football League won over all of America—and became a cultural force that recast politics in its own smashmouth image. Jesse Berrett explores pro football's new place in the zeitgeist of the 1960s and 1970s. The NFL's brilliant harnessing of the sports-media complex, combined with a nimble curation of its official line, brought different visions of the same game to both Main Street and the ivory tower. Politicians, meanwhile, spouted gridiron jargon as their handlers co-opted the NFL's gift for spectacle and mythmaking to shape a potent new politics that in essence became pro football. Governing, entertainment, news, elections, celebrity--all put aside old loyalties to pursue the mass audience captured by the NFL's alchemy of presentation, television, and high-stepping style. An invigorating appraisal of a dynamic era, Pigskin Nation reveals how pro football created the template for a future that became our present.
Praise For Pigskin Nation: How the NFL Remade American Politics (Sport and Society)…
"A superb cultural history."--Publisher's Weekly

"Jesse Berrett's Pigskin Nation is an insightful account of how professional football intersected with politics between 1966 and 1974, and how the sport "became both a metaphor for American achievement and an effective means of reaching voters."" --Journal of American History

"The book is extensively researched throughout, and Berrett includes copious notes, which will prove helpful for sports historians and general readers alike.  Recommended." --Choice

"Accessible, well-researched, and insightful, Pigskin Nation is a compelling book." --Journal of Sport History

"Pigskin Nation makes an important contribution and should find a welcome home in sport history courses and among general readers interested in how pro football became a commonplace part of political culture." --Sport History Review

"Pigskin Nation: How the NFL Remade American Politics offers much to chroniclers of the relationship between popular culture and politics. . . . In its all-encompassing depiction of the decades-long relationship between American football and American politics that can, in turn, provide a more productive way to consider the political realities and ramifications of football in the twenty-first century." --Journal of American Culture

"The current collision of football and politics boils out of a half-century of violence, skullduggery, idealism, and greed brilliantly exposed in this fascinating and fast-paced scrimmage of a book."--Robert Lipsyte, author of SportsWorld: An American Dreamland

"With an acute eye for detail, especially notable in the brilliant analysis of NFL films, Jesse Berrett shows how pro football and Richard Nixon's America arose coterminously and in reinforcing ways. One of the best books I have read on the politics and culture of sports in the modern United States. This terrific study shows how football both reflected and transformed American politics and culture during the long 1960s."--Larry Glickman, author of Buying Power: A History of Consumer Activism in America

"This is a terrific book—smart, lively, and deeply researched, full of surprises to delight the casual fan and the seasoned historian alike. If you want to know how a not-quite-respectable sport of the 1950s within two decades became 'America's Game,' not just the country's most popular sport but also the one most entangled in partisan politics and competing visions of American life, this book is for you."--Michael Oriard, author of Brand NFL: Making and Selling America's Favorite Sport

"For this devotee of Sam Huff's New York Giants and Dave Meggyesy's Syracuse Orangemen, Jesse Berrett's fascinating book is an absolute pleasure to read. Moving with the tempo of a two-minute drill, the narrative will inform both gridiron fans and political scholars alike. How many knew, for instance, that during the Vietnam War that the best way to avoid fighting the NLF was to play in the NFL? Masterfully researched, brimming with well-mined quotes, and leavened with astute analysis, the book makes the difficult job of good writing appear effortless. Anybody wanting to know how football got so big, and politics got so mean, needs to pick up Pigskin Nation."--Thomas M. Grace, author of Kent State: Death and Dissent in the Long Sixties
University of Illinois Press, 9780252083327, 304pp.
Publication Date: April 11, 2018
About the Author
Jesse Berrett earned a PhD in History at the University of California, Berkeley. He has worked as a rock critic, television columnist, and book reviewer. He teaches history at University High School in San Francisco.
or
Not Currently Available for Direct Purchase