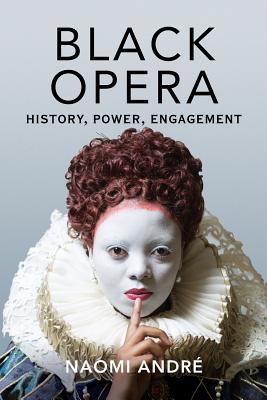 Black Opera
History, Power, Engagement
Paperback

* Individual store prices may vary.
Other Editions of This Title:
Hardcover (2/23/2012)
Hardcover (5/4/2018)
Paperback (10/30/2014)
Description
From classic films like Carmen Jones to contemporary works like The Diary of Sally Hemings and U-Carmen eKhayelitsa, American and South African artists and composers have used opera to reclaim black people's place in history. Naomi André draws on the experiences of performers and audiences to explore this music's resonance with today's listeners. Interacting with creators and performers, as well as with the works themselves, André reveals how black opera unearths suppressed truths. These truths provoke complex, if uncomfortable, reconsideration of racial, gender, sexual, and other oppressive ideologies. Opera, in turn, operates as a cultural and political force that employs an immense, transformative power to represent or even liberate. Viewing opera as a fertile site for critical inquiry, political activism, and social change, Black Opera lays the foundation for innovative new approaches to applied scholarship.
Praise For Black Opera: History, Power, Engagement…
Irving Lowens Book Award, 2020
Judy Tsou Critical Race Studies Award, 2020

"A necessary exploration of how race has shaped the opera landscape in the United States and South Africa."--New York Times

"This book reveals and examines the entire hidden history of race in opera and presents us with a vision of the art form as an inherently powerful and liberating cultural force. This is a power punch of a book and not to be missed." --Book Riot 

"This wide-ranging and-a positive sense-provocative study . . . should interest anyone concerned with teaching and studying the shifting functions of opera in an even more shifting world."--Opera News

"Nestled within the disciplines of musicology, ethnomusicology, African Studies, and cultural theory, this truly interdisciplinary monograph points to a new way to analyze music's place in the past and the present."--New Books Network

"Andre explores the background, identity and intention of the composer and librettist, and the genre, in a way that is illuminating and paints a vivid picture for the reader. . . .Overall, this book does contribute greatly to the literature in the field and is relevant to musicologists, sociologists of music and culture, as well as practitioners in the field of opera." --Ethnic and Racial Studies

"A most welcome, insightful, deeply rooted and felt study, admirably researched and written. It is rich with ideas about how opera is presented and received, and with astute reflections on the troubling ways that race, racism, segregation, colonization, gender, sexuality, and sexism play into decisions about what operas are performed, how they are performed, and how they are heard and seen."--Ellie M. Hisama, author of Gendering Musical Modernism: The Music of Ruth Crawford, Marion Bauer, and Miriam Gideon

"A compelling companion to Rosalyn Story's important text And So I Sing. Where Story focused on constructing the general historiography, Black Opera expands this to a more analytical discussion of how black women have been represented socially, visually, and aesthetically through certain operatic roles. This perspective is unique, innovative, and fills a void in the scholarship on opera."--Tammy Kernodle, author of Soul on Soul: The Life and Music of Mary Lou Williams
University of Illinois Press, 9780252083570, 282pp.
Publication Date: May 4, 2018
About the Author
Naomi André is an associate professor in the departments of African and Afroamerican Studies and Women's Studies. She also is associate director in the Residential College at the University of Michigan. She is the author of Voicing Gender: Castrati, Travesti, and the Second Woman in Early-Nineteenth-Century Italian Opera and coeditor of Blackness in Opera.