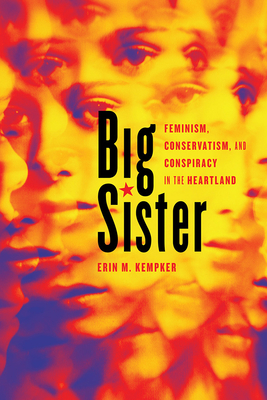 Big Sister
Feminism, Conservatism, and Conspiracy in the Heartland (Women, Gender, and Sexuality in American History)
Paperback

* Individual store prices may vary.
Other Editions of This Title:
Hardcover (10/10/2018)
Description
The mid-Seventies represented a watershed era for feminism. A historic National Women's Conference convened in Houston in 1977. The Equal Rights Amendment inched toward passage. Conservative women in the Midwest, however, saw an event like the International Year of the Woman not as a celebration, but as part of a conspiracy that would lead to radicalism and one-world government. Erin M. Kempker delves into how conspiracy theories affected--and undermined--second wave feminism in the Midwest. Focusing on Indiana, Kempker views this phenomenon within the larger history of right-wing fears of subversion during the Cold War. Feminists and conservative women each believed they spoke in women's best interests. Though baffled by the conservative dread of "collectivism," feminists compromised by trimming radicals from their ranks. Conservative women, meanwhile, proved adept at applying old fears to new targets. Kemper's analysis places the women's opposing viewpoints side by side to unlock the differences that separated the groups, explain one to the other, and reveal feminism's fate in the Midwest.
Praise For Big Sister: Feminism, Conservatism, and Conspiracy in the Heartland (Women, Gender, and Sexuality in American History)…
"This book does an excellent job of showing how groups on the far right, at least since the early Cold War, have been linked by a common countersubversive ideology. This is really creative and original work."--Kathryn S. Olmsted, author of Real Enemies: Conspiracy Theories and American Democracy, World War I to 9/11

"Kempker provides a fascinating look into the history of conservative women, feminist women, and the relationship between the two groups in the post-WW II US. Highly recommended." --Choice
 
"Big Sister is a compelling history of feminism and anti-feminism in the American Midwest that delves into the curious realm of conspiracy theories, demonstrating their significant and relentless impact on Heartland conservatism. Erin Kempker's book does the important work of linking Cold War era and New Right conservatism, showing how the steady drumbeat of anti-internationalism, conspiricism, and anti-elitism ignited rightwing activists from the early 1950s through the 1980s. Big Sister also documents the 'low-key' Hoosier feminism that developed amidst the challenges posed by conservative backlash and Midwestern reserve, where feminists deliberately abstained from radical, audacious political actions that would work against their interests in promoting the Equal Rights Amendment."--Michelle Nickerson, author of Mothers of Conservatism: Women and the Postwar Right
 
"This book is useful for understanding why so many Americans found conspiracy theories appealing in the postwar period. . . .
Big Sister
opens the door for scholars to investigate understudies topics." --
The Annals of Iowa
University of Illinois Press, 9780252083662, 222pp.
Publication Date: October 10, 2018
About the Author
Erin M. Kempker is an associate professor of history at the Mississippi University for Women.