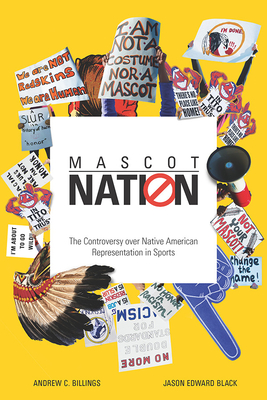 Mascot Nation (Paperback)
The Controversy over Native American Representations in Sports
University of Illinois Press, 9780252083785, 256pp.
Publication Date: October 8, 2018
* Individual store prices may vary.
Description
The issue of Native American mascots in sports raises passions but also a raft of often-unasked questions. Which voices get a hearing in an argument? What meanings do we ascribe to mascots? Who do these Indians and warriors really represent? Andrew C. Billings and Jason Edward Black go beyond the media bluster to reassess the mascot controversy. Their multi-dimensional study delves into the textual, visual, and ritualistic and performative aspects of sports mascots. Their original research, meanwhile, surveys sports fans themselves on their thoughts when a specific mascot faces censure. The result is a book that merges critical-cultural analysis with qualitative data to offer an innovative approach to understanding the camps and fault lines on each side of the issue, the stakes in mascot debates, whether common ground can exist and, if so, how we might find it.
About the Author
Andrew C. Billings is a professor and Ronald Reagan Chair of Broadcasting in the Department of Journalism and Creative Media at the University of Alabama. He is the coauthor of Olympic Television: Broadcasting the Biggest Show on Earth and Media and the Coming Out of Gay Male Athletes in American Team Sports. Jason Edward Black is chair and a professor of communication studies at the University of North Carolina at Charlotte. He is a coeditor of Decolonizing Native American Rhetoric: Communicating Self-Determination, the author of American Indians and the Rhetoric of Removal and Allotment, and a coeditor of An Archive of Hope: Harvey Milk's Speeches and Writings.
 
Praise For Mascot Nation: The Controversy over Native American Representations in Sports…
"An exciting project that promises to impact understandings of Native American mascots in powerful ways. Mascot Nation provides fresh perspectives on the use of American Indian imagery in sport. Rather than restate existing arguments in the ongoing controversy, Billings and Black weave together established understandings and new empirical research to clarify not simply what mascots mean but also how they matter in sport and society. Of particular note, they craft a well-rounded and fully grounded account by engaging with people and perspectives from all sides of the controversy. Mascot Nation will become essential reading for anyone interested in understanding the study and struggle over Native American mascots. It will soon come to be seen as an exemplar for the study of sport communications."--C. Richard King, author of Redskins: Insult and Brand

"Valuable . . . Examine[s] all sides of the issue with an objective eye."--Booklist