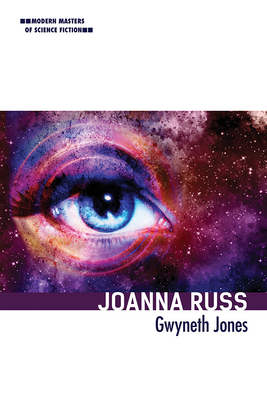 Joanna Russ (Modern Masters of Science Fiction)
Paperback

* Individual store prices may vary.
Other Editions of This Title:
Hardcover (8/30/2019)
Description
Experimental, strange, and unabashedly feminist, Joanna Russ's groundbreaking science fiction grew out of a belief that the genre was ideal for expressing radical thought. Her essays and criticism, meanwhile, helped shape the field and still exercise a powerful influence in both SF and feminist literary studies.Award-winning author and critic Gwyneth Jones offers a new appraisal of Russ's work and ideas. After years working in male-dominated SF, Russ emerged in the late 1960s with Alyx, the uber-capable can-do heroine at the heart of Picnic on Paradise and other popular stories and books. Soon, Russ's fearless embrace of gender politics and life as an out lesbian made her a target for male outrage while feminist classics like The Female Man and The Two of Them took SF in innovative new directions. Jones also delves into Russ's longtime work as a critic of figures as diverse as Lovecraft and Cather, her foundational place in feminist fandom, important essays like "Amor Vincit Foeminam," and her career in academia.
Praise For Joanna Russ (Modern Masters of Science Fiction)…
"In Joanna Russ," a new survey of Russ's work, the writer and critic Gwyneth Jones provides a helpful window into Russ's early life." --New Yorker
  "It is time [Russ],was remembered and honored for her gallant, elegant and witty contribution." --Times Literary Supplement

"An important and compact new study. . . Russ was an unfairly neglected writer, and Jones' introduction is a great place to start learning about her." --Seattle Times
"This overview would be a particularly good introduction for undergraduates (or any interested reader) looking for a way into Russ's career and into the gender-in-SF issues of her time." --Locus

"Essential reading for those interested in the history and evolution of sci-fi as a genre, and in the continued fight for diversity, inclusion, and visibility of sci-fi and pop culture more broadly." --Popmatters

"A rigorous biography of Russ's mind. . . . Every writer must dream of someday having a reader who reads their work the way Gwyneth Jones reads Joanna Russ." --Fantasy & Science Fiction
University of Illinois Press, 9780252084478, 224pp.
Publication Date: August 30, 2019
About the Author
Gwyneth Jones is a science fiction and fantasy author and critic. Her fiction includes Divine Endurance and the Aleutian Trilogy. Her nonfiction includes Deconstructing the Starships: Essays and Reviews and Imagination/Space: Essays and Talks on Fiction, Feminism, Technology, and Politics. Jones is the winner of two World Fantasy Awards and the Arthur C. Clarke Award, and the SFRA Pilgrim award for lifetime achievement in SF criticism.