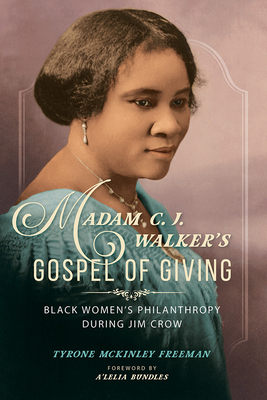 Madam C. J. Walker's Gospel of Giving
Black Women's Philanthropy during Jim Crow (New Black Studies Series)
Paperback

* Individual store prices may vary.
Other Editions of This Title:
Hardcover (10/12/2020)
Description
Founder of a beauty empire, Madam C. J. Walker was celebrated as America's first self-made female millionaire in the early 1900s. Known as a leading African American entrepreneur, Walker was also devoted to an activist philanthropy aimed at empowering African Americans and challenging the injustices inflicted by Jim Crow.
Tyrone McKinley Freeman's biography highlights how giving shaped Walker's life before and after she became wealthy. Poor and widowed when she arrived in St. Louis in her twenties, Walker found mentorship among black churchgoers and working black women. Her adoption of faith, racial uplift, education, and self-help soon informed her dedication to assisting black women's entrepreneurship, financial independence, and activism. Walker embedded her philanthropy in how she grew her business, forged alliances with groups like the National Association of Colored Women, funded schools and social service agencies led by African American women, and enlisted her company's sales agents in local charity and advocacy work.
Illuminating and dramatic, Madam C. J. Walker's Gospel of Giving broadens our understanding of black women's charitable giving and establishes Walker as a foremother of African American philanthropy.
Praise For Madam C. J. Walker's Gospel of Giving: Black Women's Philanthropy during Jim Crow (New Black Studies Series)…
"Walker's Gospel of Giving sets the stage for black philanthropy in spite of societal obstacles in place for black people." --Annals of Iowa

"The book paints a portrait of a unique historical figure, but also contains food for thought for today's nonprofit leaders and employees. . . . Activists will find engaging stories and information in the book from which they can hopefully draw inspiration and refuel as they continue doing the hard physical and emotional work of social change." --GrantStation

"A unique study and argument that refutes popular and historiographical exceptionalist notions of the famous businesswoman." --Choice

"This is no simple story of Madam Walker's charitable giving. Instead, by spanning the course of Walker's remarkable life from the daughter of enslaved parents to beauty culture mogul, Tyrone McKinley Freeman's brilliant and impeccably researched book demonstrates that wealth did not drive Walker to give, but that she was the embodiment of a much longer, though often hidden, tradition of black philanthropy. This book will forever change the way we understand Walker's importance and provides a much needed context for contemporary calls for economic justice."--Tiffany Gill, author of Beauty Shop Politics: African American Women's Activism in the Beauty Industry

"Freeman expands the traditional definition of philanthropy beyond financial giving to show the rich history of Black philanthropy that informed the life and work of Madam C. J. Walker." --Stanford Social Innovation Review

"Brings a fresh perspective to Walker's legacy, chronicling how she used her position in society to support racial uplift, education, and faith-based initiatives that warded off some of Jim Crow's evils." --Bitch

"In this well-argued piece of scholarship, Freeman carves out valuable insights into Black history. " --Booklist
University of Illinois Press, 9780252085352, 304pp.
Publication Date: September 29, 2020
About the Author
Tyrone McKinley Freeman is an assistant professor of philanthropic studies at Indiana University.