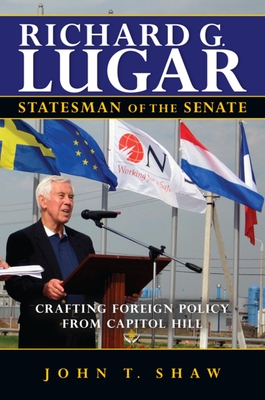 Richard G. Lugar, Statesman of the Senate (Hardcover)
Crafting Foreign Policy from Capitol Hill
Indiana University Press, 9780253001931, 257pp.
Publication Date: March 22, 2012
* Individual store prices may vary.
Description
Two-time chairman of the Senate Foreign Relations Committee, Richard G. Lugar has been one of the most widely respected foreign policy experts in Congress for over three decades. In this illuminating profile, John T. Shaw examines Lugar's approach to lawmaking and diplomacy for what it reveals about the workings of the Senate and changes in that institution. Drawing on interviews with Lugar and other leading figures in foreign policy, Shaw chronicles Lugar's historic work on nuclear proliferation, arms control, energy, and global food issues, highlighting the senator's ability to influence American foreign policy in consequential ways. The book presents Lugar's career as an example of the role Congress can play in the shaping of foreign policy in an era of a strong executive branch. It demonstrates the importance of statesmanship in contemporary American political life while acknowledging the limitations of this approach to governance.
About the Author
John T. Shaw has covered Congress since 1991 as a congressional correspondent and vice president with Market News International and as a contributing writer for the Washington Diplomat magazine. He is the author of The Ambassador: Inside the Life of a Working Diplomat and Washington Diplomacy: Profiles of People of World Influence. He has been a Hoover Institution Media Fellow and is a frequent commentator for C-SPAN and public radio.