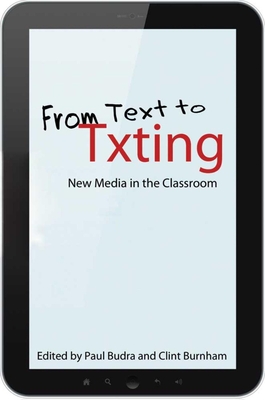 From Text to Txting (Paperback)
New Media in the Classroom
Indiana University Press, 9780253005786, 251pp.
Publication Date: July 9, 2012
Other Editions of This Title:
Hardcover (7/9/2012)
* Individual store prices may vary.
Description
Literary scholars face a new and often baffling reality in the classroom: students spend more time looking at glowing screens than reading printed text. The social lives of these students take place in cyberspace instead of the student pub. Their favorite narratives exist in video games, not books. How do teachers who grew up in a different world engage these students without watering down pedagogy? Clint Burnham and Paul Budra have assembled a group of specialists in visual poetry, graphic novels, digital humanities, role-playing games, television studies, and, yes, even the middle-brow novel, to address this question. Contributors give a brief description of their subject, investigate how it confronts traditional notions of the literary, and ask what contemporary literary theory can illuminate about their text before explaining how their subject can be taught in the 21st-century classroom.
About the Author
Paul Budra is author of A Mirror for Magistrates and the de casibus Tradition and co-editor of Part Two: Reflections on the Sequel and Soldier Talk: The Vietnam War in Oral Narrative (IUP, 2004). He is Associate Professor of English and Associate Dean of the Faculty of Arts and Social Sciences at Simon Fraser University. Clint Burnham is the author of The Jamesonian Unconscious, The Benjamin Sonnets, The Only Poetry that Matters: Reading the Kootenay School of Writing, and other works of criticism, fiction, and poetry. He is Associate Professor of English at Simon Fraser University.