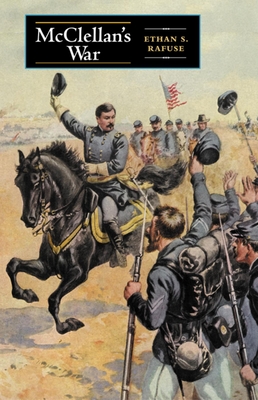 McClellan's War (Paperback)
The Failure of Moderation in the Struggle for the Union
Indiana University Press, 9780253006110, 525pp.
Publication Date: November 23, 2011
* Individual store prices may vary.
Description
Bold, brash, and full of ambition, George Brinton McClellan seemed destined for greatness when he assumed command of all the Union armies before he was 35. It was not to be. Ultimately deemed a failure on the battlefield by Abraham Lincoln, he was finally dismissed from command following the bloody battle of Antietam. To better understand this fascinating, however flawed, character, Ethan S. Rafuse considers the broad and complicated political climate of the earlier 19th century. Rather than blaming McClellan for the Union's military losses, Rafuse attempts to understand his political thinking as it affected his wartime strategy. As a result, Rafuse sheds light not only on McClellan's conduct on the battlefields of 1861-62 but also on United States politics and culture in the years leading up to the Civil War.
About the Author
Ethan S. Rafuse is Professor of Military History at the U.S. Army Command and General Staff College at Fort Leavenworth, Kansas, and the author, editor, or co-editor of eight books on Civil War history, including Antietam, South Mountain, and Harpers Ferry: A Battlefield Guide and Robert E. Lee and the Fall of the Confederacy, 1863-1865.