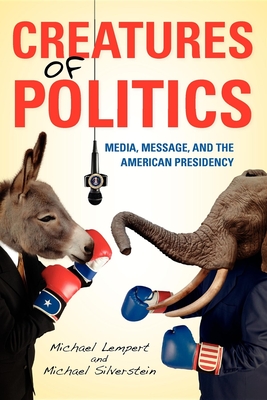 Creatures of Politics Creatures of Politics (Paperback)
Media, Message, and the American Presidency Media, Message, and the American Presidency
Indiana University Press, 9780253007520, 284pp.
Publication Date: September 12, 2012
Other Editions of This Title:
Hardcover (9/12/2012)
* Individual store prices may vary.
Description
It's a common complaint that a presidential candidate's style matters more than substance and that the issues have been eclipsed by mass-media-fueled obsession with a candidate's every slip, gaffe, and peccadillo. This book explores political communication in American presidential politics, focusing on what political insiders call "message." Message, Michael Lempert and Michael Silverstein argue, is not simply an individual's positions on the issues but the craft used to fashion the creature the public sees as the candidate. Lempert and Silverstein examine some of the revelatory moments in debates, political ads, interviews, speeches, and talk shows to explain how these political creations come to have a life of their own. From the pandering "Flip-Flopper" to the self-reliant "Maverick," the authors demonstrate how these figures are fashioned out of the verbal, gestural, sartorial, behavioral--as well as linguistic--matter that comprises political communication.
About the Author
Michael Lempert is Assistant Professor of Anthropology at the University of Michigan and author of Discipline and Debate: The Language of Violence in a Tibetan Buddhist Monastery.Michael Silverstein is Charles F. Grey Distinguished Service Professor of Anthropology, Linguistics, and Psychology and in the Committee on Interdisciplinary Studies in the Humanities at the University of Chicago. His published works include Talking Politics: The Substance of Style from Abe to "W."