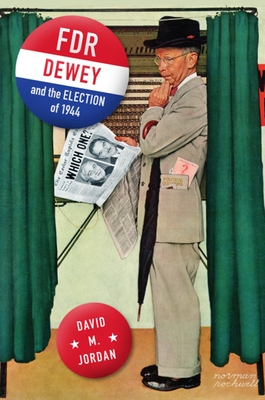 Fdr, Dewey, and the Election of 1944 (Paperback)
Indiana University Press, 9780253009708, 386pp.
Publication Date: December 7, 2012
Other Editions of This Title:
Hardcover (9/2/2011)
* Individual store prices may vary.
Description
Although the presidential election of 1944 placed FDR in the White House for an unprecedented fourth term, historical memory of the election itself has been overshadowed by the war, Roosevelt's health and his death the following April, Truman's ascendancy, and the decision to drop the atomic bomb. Today most people assume that FDR's reelection was assured. Yet, as David M. Jordan's engrossing account reveals, neither the outcome of the campaign nor even the choice of candidates was assured. Just a week before Election Day, pollster George Gallup thought a small shift in votes in a few key states would award the election to Thomas E. Dewey. Though the Democrats urged voters not to "change horses in midstream," the Republicans countered that the war would be won "quicker with Dewey and Bricker." With its insider tales and accounts of party politics, and campaigning for votes in the shadow of war and an uncertain future, FDR, Dewey, and the Election of 1944 makes for a fascinating chapter in American political history.
About the Author
David M. Jordan is author of Roscoe Conkling of New York: Voice in the Senate; Winfield Scott Hancock: A Soldier's Life (IUP, 1988); "Happiness Is Not My Companion": The Life of General G. K. Warren (IUP, 2001); and Occasional Glory: A History of the Philadelphia Phillies.