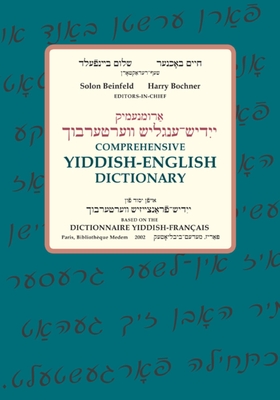 Comprehensive Yiddish-English Dictionary (Hardcover)
Indiana University Press, 9780253009838, 744pp.
Publication Date: January 8, 2013
* Individual store prices may vary.
Description
Including over 37,000 entries compiled by a team of expert Yiddish linguists, Comprehensive Yiddish-English Dictionary surpasses all its predecessors in the number of words and rich selection of idioms, examples of usage, and coverage of stylistic levels and dialect forms. The user-friendly entries include words for standard and literary as well as contemporary colloquial and conversational usage and a wide range of terms from all sources of Yiddish, including those of Hebraic-Aramaic, Slavic, and Romance as well as Germanic origin. The lexical corpus comes directly from the highly acclaimed Dictionnaire Yiddish-Fran ais by Yitskhok Niborski and Bernard Vaisbrot, published by the Biblioth que Medem in Paris in 2002. Augmented by an extensive user's guide, this volume is an indispensable resource for students, teachers, translators, and readers of Yiddish.
About the Author
Solon Beinfeld taught modern European and modern Jewish history at Washington University in St. Louis and has translated extensively from Yiddish, most recently The Last Jew of Treblinka by Chil Rajchman.Harry Bochner, a linguist and Yiddishist, is author of Simplicity in Generative Morphology.