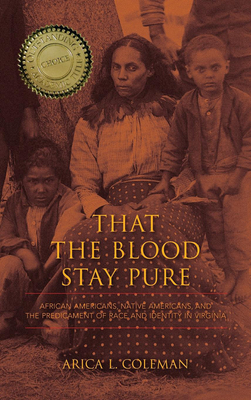 That the Blood Stay Pure (Hardcover)
African Americans, Native Americans, and the Predicament of Race and Identity in Virginia (Blacks in the Diaspora)
Indiana University Press, 9780253010438, 300pp.
Publication Date: October 18, 2013
* Individual store prices may vary.
Description
That the Blood Stay Pure traces the history and legacy of the commonwealth of Virginia's effort to maintain racial purity and its impact on the relations between African Americans and Native Americans. Arica L. Coleman tells the story of Virginia's racial purity campaign from the perspective of those who were disavowed or expelled from tribal communities due to their affiliation with people of African descent or because their physical attributes linked them to those of African ancestry. Coleman also explores the social consequences of the racial purity ethos for tribal communities that have refused to define Indian identity based on a denial of blackness. This rich interdisciplinary history, which includes contemporary case studies, addresses a neglected aspect of America's long struggle with race and identity.
About the Author
Arica L. Coleman is Assistant Professor of Black American Studies at the University of Delaware.