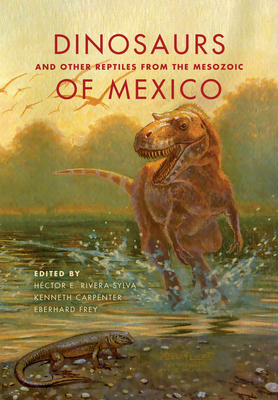 Dinosaurs and Other Reptiles from the Mesozoic of Mexico (Life of the Past) (Hardcover)
Indiana University Press, 9780253011831, 216pp.
Publication Date: April 15, 2014
Description
This overview of dinosaur discoveries in Mexico synthesizes current information about the geography and environment of the region during the Mesozoic when it was the western margin of the ancient continent of Pangea. The book summarizes research on various groups, including turtles, lepidosauromorphs, plesiosaurs, crocodyliforms, pterosaurs, and last but not least, dinosaurs. In addition, chapters focus on trackways and other trace fossils and on K/P boundary (the Chicxulub crater, beneath the Gulf of Mexico, has been hypothesized as the site of the boloid impact that killed off the dinosaurs). Dinosaurs and Other Reptiles from the Mesozoic of Mexico is an up-to-date, informative volume on an area that has not been comprehensively described until now.
About the Author
Hector E. Rivera-Sylva is a paleontologist with the Museo del Desierto in Saltillo, Coahilla, Mexico.Kenneth Carpenter is Associate Vice-Chancellor, Prehistoric Museum, the College of Eastern Utah. He is author of Eggs, Nests, and Baby Dinosaurs (IUP, 2000); editor of The Carnivorous Dinosaurs (IUP, 2005) and The Armored Dinosaurs (IUP, 2000); and editor (with Peter Larson) of Tyrannosaurus rex, the Tyrant King (IUP, 2008), (with Virginia Tidwell) of Thunder-Lizards: The Sauropodomorph Dinosaurs (IUP, 2005), and (with Darren H. Tanke) of Mesozoic Vertebrate Life (IUP, 2001).Eberhard Frey is Chief Curator and Head of the Department of Geosciences at State Museum of Natural History Karlsruhe, Germany.
Advertisement