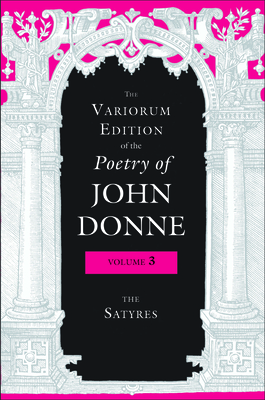 The Variorum Edition of the Poetry of John Donne, Volume 3 (Hardcover)
The Satyres
Indiana University Press, 9780253012906, 1160pp.
Publication Date: September 12, 2016
Description
Based on an exhaustive study of the manuscripts and printed editions in which these poems have appeared, the fifth volume in the series of The Variorum Edition of the Poetry of John Donne presents newly edited critical texts of the five canonical satires and "Metempsychosis" and details the genealogical history of each accompanied by a thorough prose discussion. The analysis contained in the volume shows that Donne revised each of the poems and explains how readings from the competing versions were intermingled in the early editions and transmitted to subsequent generations. The volume also presents a comprehensive organized digest of the critical-scholarly commentary on these poems from Donne's time through 2001.
About the Author
Gary A. Stringer is David Julian and Virginia Suther Whichard Distinguished Professor in the Humanities at East Carolina University.Donald Dickson is Professor of English at Texas A&M University.Ted-Larry Pebworth is William E. Stirton Professor in the Humanities and Professor Emeritus of English at the University of Michigan-Dearborn.Tracy McLawhorn is the technology editor and assistant textual editor for the John Donne Variorum Project at East Carolina University.Dennis Flynn is Emeritus Professor of English at Bentley University.Ernest W. Sullivan, II, is Edward S. Diggs Professor of English at Virginia Tech.Paul A. Parrish is Professor of English at Texas A&M University.Jeffrey S. Johnson is Department Chair and Professor of English at East Carolina University.M. Thomas Hester is Named Professor of English at North Carolina State University.Brian Blackley is Teaching Associate Professor of English at North Carolina State University.Anne James is Sessional Lecturer at the University of Regina.Julie W. Yen is Professor of English at California State University, Sacramento.Gregory Kneidel is Associate Professor English at the University of Connecticut.
Advertisement