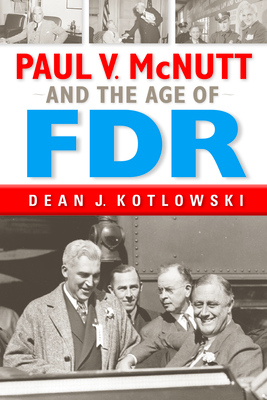 Paul V. McNutt and the Age of FDR (Hardcover)
Indiana University Press, 9780253014689, 592pp.
Publication Date: January 2, 2015
* Individual store prices may vary.
Description
In this major biography of an important politician and statesman, Dean Kotlowski presents the life of Paul V. McNutt, a great understudied figure in the era of FDR. McNutt was governor of Indiana, high commissioner to the Philippines (while serving he helped 1,300 Jews flee Nazi Germany for Manila), head of the WWII Federal Security Agency, and would-be presidential candidate. Paul V. McNutt and the Age of FDR explores McNutt's life, his era, and his relationship with Franklin Roosevelt. It sheds light on the expansion of executive power at the state level during the Great Depression, the theory and practice of liberalism as federal administrators understood it in the 1930s and 1940s, the mobilization of the American home front during World War II, and the internal dynamics of the Roosevelt and Truman administrations. McNutt's life underscores the challenges and changes Americans faced during an age of economic depression, global conflict, and decolonialization.
About the Author
Dean J. Kotlowski is Professor of History at Salisbury University in Maryland, author of Nixon's Civil Rights: Politics, Principle, and Policy, and editor of The European Union: From Jean Monnet to the Euro.