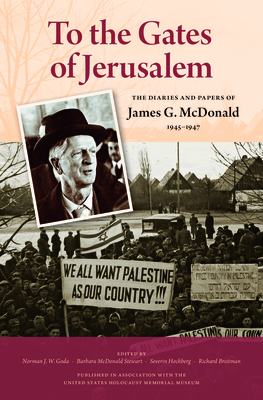 To the Gates of Jerusalem
The Diaries and Papers of James G. McDonald, 1945-1947
Hardcover

* Individual store prices may vary.
Description
This volume, the third in a series of James G. McDonald's edited diaries and papers, covers his work from 1945, with the formation of the Anglo-American Committee, through 1947, with the United Nations' decision to partition Palestine between Jews and Arabs. The Anglo-American Committee of Inquiry Regarding the Problems of European Jewry and Palestine was a group charged with finding a solution to the problem of European Jewish Refugees in the context of the increasingly unstable British Mandate in Palestine. McDonald's diaries and papers offer the most thorough personal account we have of the Committee and the politics surrounding it. His diary is part travelogue through the desolation of postwar Europe and a Middle East being transformed by new Jewish settlements and growing Arab intransigence. McDonald maintained discreet contact with Zionist and moderate Arab leaders throughout the Committee's hearings and deliberations. He was instrumental in the recommendation that 100,000 Jewish refugees enter Palestine and won President Truman's trust in order to counter attempts to nullify the report's recommendations.
Indiana University Press, 9780253015099, 320pp.
Publication Date: December 5, 2014
About the Author
Norman J. W. Goda is the Norman and Irma Braman Professor of Holocaust Studies at the University of Florida and author of Tomorrow the World: Hitler, Northwest Africa, and the Path toward America; Tales from Spandau: Nazi Criminals and the Cold War; and The Holocaust: Europe, the World, and the Jews, 1918-1945. He is author (with Richard Breitman) of Hitler's Shadow: Nazi War Criminals, U.S. Intelligence, and the Cold War and (with Richard Breitman, Timothy Naftali, and Robert Wolfe) of U.S. Intelligence and the Nazis.Barbara McDonald Stewart, daughter of James G. McDonald, has taught at George Mason University and is author of United States Government Policy on Refugees from Nazism, 1933-1940.Severin Hochberg, a historian formerly at what is now the Jack, Joseph and Morton Mandel Center for Advanced Holocaust Studies of the United States Holocaust Memorial Museum, teaches at the University of Maryland, Baltimore County.Richard Breitman is Distinguished Professor of History at American University and author, most recently, of FDR and the Jews (with Allan J. Lichtman). His other books include The Architect of Genocide: Himmler and the Final Solution and Official Secrets: What the Nazis Planned, What the British and Americans Knew. He is editor of the journal Holocaust and Genocide Studies.