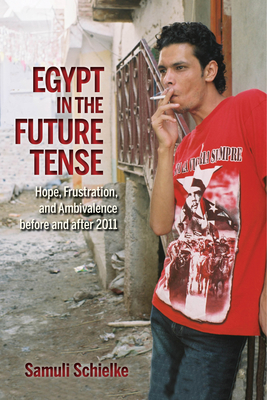 Egypt in the Future Tense (Hardcover)
Hope, Frustration, and Ambivalence Before and After 2011 (Public Cultures of the Middle East and North Africa)
Indiana University Press, 9780253015846, 274pp.
Publication Date: March 5, 2015
Other Editions of This Title:
Paperback (3/5/2015)
* Individual store prices may vary.
Description
Against the backdrop of the revolutionary uprisings of 2011-2013, Samuli Schielke asks how ordinary Egyptians confront the great promises and grand schemes of religious commitment, middle class respectability, romantic love, and political ideologies in their daily lives, and how they make sense of the existential anxieties and stalled expectations that inevitably accompany such hopes. Drawing on many years of study in Egypt and the life stories of rural, lower-middle-class men before and after the revolution, Schielke views recent events in ways that are both historically deep and personal. Schielke challenges prevailing views of Muslim piety, showing that religious lives are part of a much more complex lived experience.
About the Author
Samuli Schielke is a research fellow at Zentrum Moderner Orient (ZMO) and an external lecturer at the Free University of Berlin. He is author of The Perils of Joy: Contesting Mulid Festivals in Contemporary Egypt, and editor (with Knut Graw) of The Global Horizon: Expectations of Migration in Africa and the Middle East and (with Liza Debevec) of Ordinary Lives and Grand Schemes: An Anthropology of Everyday Religion.