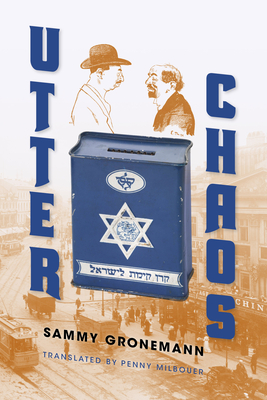 Utter Chaos (Jewish Literature and Culture) (Paperback)
Indiana University Press, 9780253019608, 296pp.
Publication Date: March 21, 2016
Other Editions of This Title:
Hardcover (3/21/2016)
* Individual store prices may vary.
Description
Published in Germany in 1920, Sammy Gronemann's satirical novel set in 1903 at the time of the Sixth Zionist Congress follows the life of a baptized Jew, Heinz Lehnsen, as he negotiates legal entanglements, German culture, religious differences, and Zionist aspirations. A chance encounter with a long-lost cousin from a shtetl in Russia further complicates the plot and challenges the characters' notions of Jewish identity and their belief in the claims of the Zionist movement. Gronemann's humor and compassion slyly expose the foibles and contradictions of human behavior. With deep insight into German society, German-Jewish culture, and antisemitism, Utter Chaos paints a highly entertaining portrait of German Jews at the beginning of the twentieth century.
About the Author
Sammy Gronemann (1875-1952) was a lawyer, Zionist, and writer in Germany. He coedited a satirical Zionist magazine and served as a translator in Europe during World War I. He was the son of rabbi and an observant Jew, though he attacked many aspects of the ultra-Orthodox movement. He emigrated to Palestine in 1936. His play, The King and the Cobbler, was a smash hit in Tel Aviv in 1943. Penny Milbouer is translator of Michael Wieck's A Childhood under Hitler and Stalin: Memoires of a "Certified" Jew and Maria Roselli's The Asbestos Lie: The Past and Present of an Industrial Catastrophe.