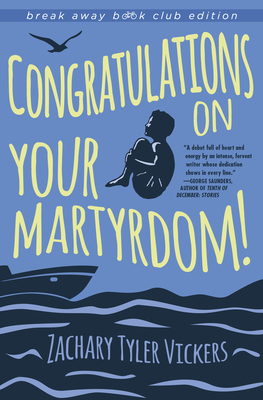 Congratulations on Your Martyrdom! (Paperback)
Break Away Book Club Edition, 9780253019813, 202pp.
Publication Date: June 1, 2016
Description
Searing, troubling, and funny, these revolutionary, linked stories flit and dart among the shadows of small town life, and the touching and heartbreaking characters that occupy it. Employees use roadkill instead of faux pelts during a build-a-critter battle for mall supremacy. Former band geeks are harassed with mutilated musical instruments and then murdered. The collection is haunted by allusions to a fatal cannonball jump that crescendos in the explosive final story. An extraordinary addition to the canon of gonzo fiction, Congratulations on Your Martyrdom introduces Zachary Tyler Vickers as an exciting new author whose unflinching prose grabs you and won't let go.
About the Author
Zachary Tyler Vickers is a graduate of the Iowa Writers' Workshop where he was the Provost's Fellow. He is recipient of the Richard Yates Prize and the Clark Fisher Ansley Prize, and his stories have appeared in numerous journals. His website is www.ztvickers.com
Advertisement