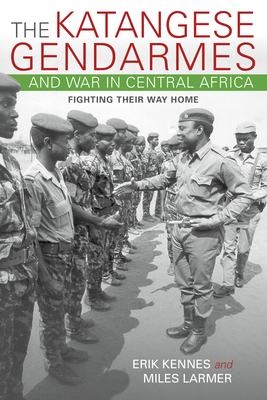 The Katangese Gendarmes and War in Central Africa (Paperback)
Fighting Their Way Home
Indiana University Press, 9780253021397, 310pp.
Publication Date: July 4, 2016
Other Editions of This Title:
Hardcover (7/4/2016)
* Individual store prices may vary.
Description
Erik Kennes and Miles Larmer provide a history of the Katangese gendarmes and their largely undocumented role in many of the most important political and military conflicts in Central Africa. Katanga, located in today's Democratic Republic of Congo, seceded in 1960 as Congo achieved independence and the gendarmes fought as the unrecognized state's army during the Congo crisis. Kennes and Larmer explain how the ex-gendarmes, then exiled in Angola, struggled to maintain their national identity and return "home." They take readers through the complex history of the Katangese and their engagement in regional conflicts and Africa's Cold War. Kennes and Larmer show how the paths not taken at Africa's independence persist in contemporary political and military movements and bring new understandings to the challenges that personal and collective identities pose to the relationship between African nation-states and their citizens and subjects.
About the Author
Erik Kennes is Research Associate at the Royal Museum for Central Africa in Tervuren, Belgium and at the Institute for Development Policy and Management of the University of Antwerp, Belgium.Miles Larmer is Associate Professor of African History at the University of Oxford. He is author of Rethinking African Politics: A History of Opposition in Zambia and Mineworkers in Zambia: Labour and Political Change in Post-Colonial Africa, 1964-1991.