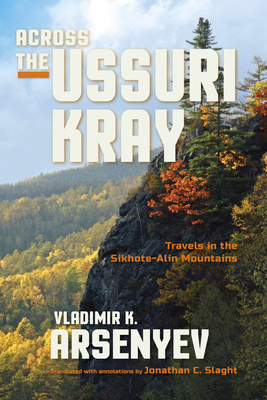 Across the Ussuri Kray
Travels in the Sikhote-Alin Mountains
Paperback

* Individual store prices may vary.
Other Editions of This Title:
Hardcover (9/19/2016)
Description
In Russia's Far East sits the wild Ussuri Kray, a region known for its remote highlands and rugged mountain passes where tigers and bears roam the cliffs, and salmon and lenok navigate the rivers. In this collection of travel writing by famed Russian explorer and naturalist Vladimir K. Arsenyev (1872-1930), readers are shuttled back to the turn of the 20th century when the Russian Empire was reeling from its defeat in the Russo-Japanese War (1904-1905) and vulnerable to its Far Eastern neighbors. What began as an expedition to survey the region's infrastructure for the Russian military turned into an adventure through a territory rich in ethnic and ecological diversity. Encountering the disappearing indigenous cultures of the Nanai and Udege, engaging the help of Korean farmers and Chinese hunters, and witnessing the beginning of indomitable Russian settlement, Arsenyev documents the lives and customs of the region's inhabitants and their surroundings. Originally written as a popular scientific description of the Kray, this unabridged edition includes photographs largely unseen for nearly a century and is annotated by Jonathan C. Slaght, a biologist working in the same forests Arsenyev explored. Across the Ussuri Kray is a classic of northeast Asian cultural and natural history.
Indiana University Press, 9780253022158, 488pp.
Publication Date: September 19, 2016
About the Author
Vladimir K. Arsenyev (1872-1930) was a Russian naturalist who devoted thirty years to exploring the Russian Far East and describing the people and wildlife he encountered. His written works continue to inspire generations of Russians to explore and appreciate nature.Jonathan C. Slaght is the Russia and Northeast Asia Coordinator for the Wildlife Conservation Society and is the English-language editor of the Far-Eastern Journal of Ornithology. He studies Blakiston's fish owls, Amur tigers, and Siberian musk deer and writes a guest blog for Scientific American entitled East of Siberia.