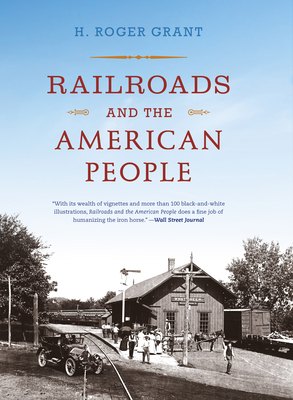 Railroads and the American People (Railroads Past and Present) (Paperback)
Indiana University Press, 9780253023797, 328pp.
Publication Date: February 27, 2017
Other Editions of This Title:
Hardcover (10/17/2012)
* Individual store prices may vary.
Description
In this engaging social history of the impact of railroads on American life, H. Roger Grant explores the railroad's "golden age" of 1830-1930. To capture the essence of the nation's railroad experience, Grant looks at four fundamental topics--trains and travel, train stations, railroads and community life, and the legacy of railroading in America--illustrating each topic with carefully chosen period illustrations. Grant recalls the lasting memories left by train travel, both of luxurious Pullman cars and the grit and grind of coal-powered locals. He discusses the important role railroads played for towns and cities across America, not only for the access they provided to distant places and distant markets but also for the depots that were a focus of community life. Finally, Grant reviews the lasting heritage of the railroads preserved in word, stone, paint, and memory. Railroads and the American People is a sparkling paean to American railroading by one of its finest historians.
About the Author
H. Roger Grant is Kathryn and Calhoun Lemon Professor of History at Clemson University. He is author of more than 30 books, including Electric Interurbans and the American People (IUP, 2016), Railroaders without Borders: A History of the Railroad Development Corporation (IUP, 2015) and The Louisville, Cincinnati & Charleston Rail Road: Dreams of Linking North and South (IUP, 2014).