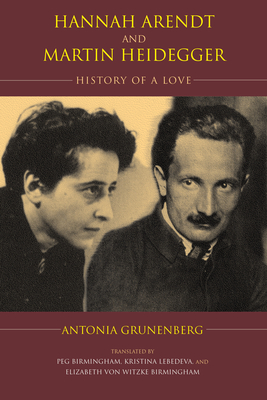 Hannah Arendt and Martin Heidegger (Paperback)
History of a Love (Studies in Continental Thought)
Indiana University Press, 9780253025371, 340pp.
Publication Date: July 17, 2017
Other Editions of This Title:
Hardcover (7/17/2017)
* Individual store prices may vary.
Description
How could Hannah Arendt, a German Jew who fled Germany in 1931, have reconciled with Martin Heidegger, whom she knew had joined and actively participated in the Nazi Party? In this remarkable biography, Antonia Grunenberg tells how the relationship between Arendt and Heidegger embraced both love and thought and made their passions inseparable, both philosophically and romantically. Grunenberg recounts how the history between Arendt and Heidegger is entwined with the history of the twentieth century with its breaks, catastrophes, and crises. Against the violent backdrop of the last century, she details their complicated and often fissured relationship as well as their intense commitments to thinking.
About the Author
Antonia Grunenberg is Professor of Political Science and Director of the Hannah Arendt Center at Carl von Ossietzky University of Oldenburg.Peg Birmingham is Professor of Philosophy at DePaul University. She is author of Hannah Arendt and Human Rights: The Predicament of Common Responsibility (IUP), editor (with Philippe van Haute) of Dissensus Communis: Between Ethics and Politics, and editor (with Anna Yeatman) of Aporia of Rights: Citizenship in an Era of Human Rights. She is editor of Philosophy Today.Elizabeth von Witzke Birmingham lives and works in Berlin. She is translator (with Peg Birmingham) of Dominique Janicaud's Powers of the Rational: Science, Technology, and the Future of Thought (IUP).Kristina Lebedeva is a doctoral student of Philosophy at DePaul University.