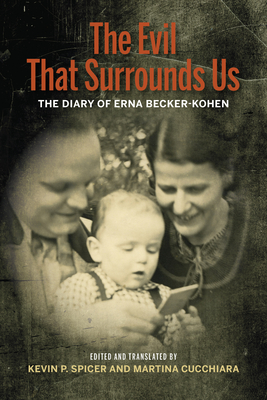 The Evil That Surrounds Us (Paperback)
The WWII Memoir of Erna Becker-Kohen
Indiana University Press, 9780253029867, 174pp.
Publication Date: September 1, 2017
Other Editions of This Title:
Hardcover (9/1/2017)
* Individual store prices may vary.
Description
In 1931, Gustav Becker and Erna Kohen married. He was Catholic and she was Jewish. Erna and Gustav had no idea their religious affiliations, which mattered so little to them, would define their marriage under the Nazis. As one of the more than 20,000 German Jews married to an "Aryan" spouse, Erna was initially exempt from the most radical anti-Jewish measures. However, even after Erna willingly converted to Catholicism, the persecution, isolation, and hatred leveled against them by the Nazi regime and their Christian neighbors intensified, and she and their son Silvan were forced to flee alone into the mountains. Through intimate and insightful diary entries, Erna tells her own compelling and horrifying story and reflects on the fortunate escapes and terrible tragedies of her friends and family. The Nazis would exact steep payment for Erna's survival: her home, her family, and ultimately her faithful husband's life. The Evil That Surrounds Us reveals both the great evil of Nazi Germany and the powerful love and courage of her husband, friends, and strangers who risked everything to protect her.