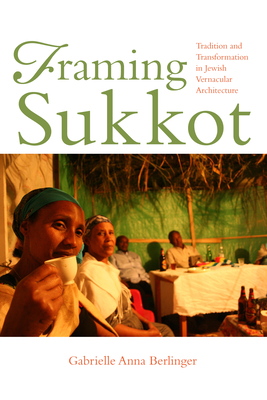 Framing Sukkot (Paperback)
Tradition and Transformation in Jewish Vernacular Architecture (Material Vernaculars)
Indiana University Press, 9780253031822, 264pp.
Publication Date: September 20, 2017
Other Editions of This Title:
Hardcover (9/20/2017)
* Individual store prices may vary.
Description
The sukkah, the symbolic ritual home built during the annual Jewish holiday of Sukkot, commemorates the temporary structures that sheltered the Israelites as they journeyed across the desert after the exodus from Egypt. Despite the simple Biblical prescription for its design, the remarkable variety of creative expression in the construction, decoration, and use of the sukkah, in both times of peace and national upheaval, reveals the cultural traditions, political convictions, philosophical ideals, and individual aspirations that the sukkah communicates for its builders and users today.
In this ethnography of contemporary Sukkot observance, Gabrielle Anna Berlinger examines the powerful role of ritual and vernacular architecture in the formation of self and society in three sharply contrasting Jewish communities: Bloomington, Indiana; South Tel Aviv, Israel; and Brooklyn, New York. Through vivid description and in-depth interviews, she demonstrates how constructing and decorating the sukkah and performing the weeklong holiday's rituals of hospitality provide unique circumstances for creative expression, social interaction, and political struggle. Through an exploration of the intersections between the rituals of Sukkot and contemporary issues, such as the global Occupy movement, Berlinger finds that the sukkah becomes a tangible expression of the need for housing and economic justice, as well as a symbol of the longing for home.
About the Author
Gabrielle Anna Berlinger is Assistant Professor of American Studies and Folklore and the Babette S. and Bernard J. Tanenbaum Fellow in Jewish History and Culture at The University of North Carolina at Chapel Hill.