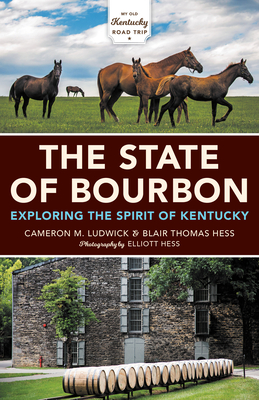 The State of Bourbon
Exploring the Spirit of Kentucky
Paperback

* Individual store prices may vary.
Description
Welcome to Kentucky, where bourbon barrels outnumber residents. After all, bourbon is Kentucky--its craftsmanship and flavors cannot be separated from the culture and history of the state. Discover that culture and history--and enjoy great food, fabulous drinks, and incredible people--on your own Kentucky bourbon road trip.
The State of Bourbon showcases the region's finest distilleries as well as the local restaurants, hotels, parks, and adventures that every bourbon lover needs to experience. Bluegrass natives Cameron M. Ludwick and Blair Thomas Hess highlight some of their favorite stops on the Kentucky Bourbon Trail, the Urban Bourbon Trail, and the Craft Bourbon Trail, at stills and rick houses where the history and heritage of the nation's only native spirit come to life.
Not just a trail or tasting guide, The State of Bourbon will lead you across Kentucky, through the history of the spirit, and into your own bourbon adventure.
Indiana University Press, 9780253037817, 152pp.
Publication Date: July 11, 2018
About the Author
Cameron M. Ludwick is a bookworm, trivia nerd, and former band geek who still relies on the survival skills she learned at Girl Scout camp to cope with nature. A Kentucky native, she now has bigger hair and lives in Austin, Texas. Blair Thomas Hess is a born-and-bred Kentuckian who once won a sack-the-pig contest at the Trigg County Country Ham Festival. She resides in Frankfort, Kentucky, with her daughter and her picture-taking, bourbon-collecting husband. Together, these long-time friends travel across the Commonwealth of Kentucky, exploring its various wonders and uncovering its best-kept secrets. Follow the adventure at myoldkentuckyroadtrip.com and on Twitter (@MyOldKYRoadTrip) and Instagram (@myoldkentuckyroadtrip).