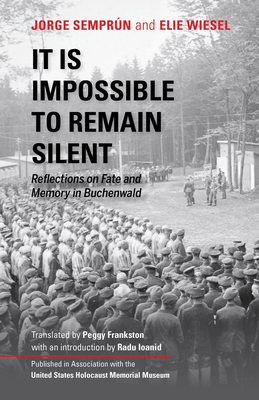 It Is Impossible to Remain Silent (Hardcover)
Reflections on Fate and Memory in Buchenwald
Indiana University Press, 9780253045287, 62pp.
Publication Date: November 4, 2019
* Individual store prices may vary.
Description
On March 1, 1995, at the time of the fiftieth anniversary of the liberation of the Nazi concentration camps, ARTE (a French-German state-funded television network) proposed an encounter between two highly-regarded figures of our time: Elie Wiesel and Jorge Sempr n. These two men, whose destinies were unparalleled, had probably crossed paths--without ever meeting--in the Nazi concentration camp Buchenwald in 1945. This short book is the entire transcription of their recorded conversation. During World War II, Buchenwald was the center of a major network of sub-camps and an important source of forced labor. Most of the internees were German political prisoners, but the camp also held a total of 10,000 Jews, Roma, Sinti, Jehovah's Witnesses, and German military deserters.
In these pages, Wiesel and Sempr n poignantly discuss the human condition under catastrophic circumstances. They review the categories of inmate at Buchenwald and agree on the tragic reason for the fate of the victims of Nazism--as well as why this fate was largely ignored for so long after the end of the war. Both men offer riveting testimony and pay vibrant homage to the Jewish victims of the Holocaust. Today, seventy-five years after the liberation of the Nazi camps, this book could not be more timely for its confrontation with ultra-nationalism and antisemitism.