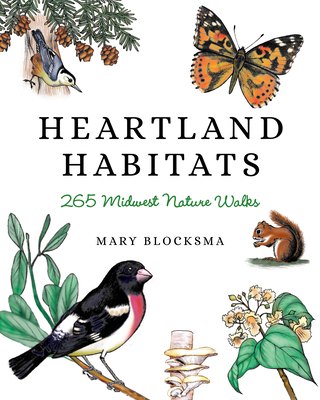 Heartland Habitats (Hardcover)
265 Midwest Nature Walks
Indiana University Press, 9780253045799, 204pp.
Publication Date: February 4, 2020
* Individual store prices may vary.
Description
Star-shaped flowers, short-tempered snapping turtles, and clusters of chicken-flavored mushrooms are just a few of the many fascinating things awaiting discovery just beyond the typical North American backyard.
In Heartland Habitats: 265 Midwest Nature Walks, Mary Blocksma guides readers through North American terrain, introducing them to the land and its thriving wildlife of Minnesota, Iowa, Missouri, Wisconsin, Illinois, Michigan, Indiana, and Ohio. From birds of all kinds to fungi of both the tasty and deadly varieties--Chicken of the Woods, Death Caps, Jack-O-Lanterns--Blocksma gradually uncovers a world rich with breathtaking beauty. Adventures filled with swan-on-goose battles, squirrel squabbles, and forays into forests all lead to a deeper understanding of the world around us.
A lively and detailed guide in befriending the great outdoors, Heartland Habitats showcases the natural wonders thriving just outside our homes with full-color illustrations and vivid descriptions.
About the Author
Mary Blocksma is the author of more than 26 books for children and adults including Great Lakes Solo: Exploring the Great Lakes Coastline from the St. Lawrence Seaway to the Boundary Waters of Minnesota; Lake Lover's Year: A Writer Learns to Paint; What's on the Beach? A Great Lakes Treasure Hunt; What's in the Woods? A Great Lakes Area Treasure Hunt; and Great Lakes Nature: An Outdoor Year.