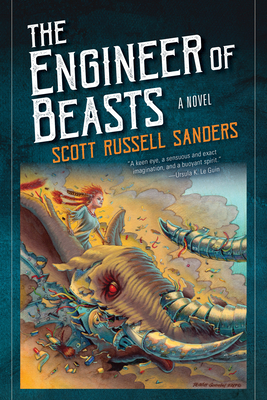 The Engineer of Beasts
Paperback

* Individual store prices may vary.
Description
After decades of abuse transforms the world into a toxic wasteland, people flee into the safety of a global network of domed cities. Within these safe, orderly spaces, the only animals allowed are machines in the new world's mechanized zoos, called disneys. Orlando Spinks prides himself on keeping his father's disney spotless and orderly, until 13-year-old Mooch explodes into his life and down the throat of a mechanized lion.
Mooch quickly wriggles her way into Orlando's heart with her creative mechanical genius, fiery spirit, and passion for real animals. As her rebellious spark spreads to Orlando, they restore the wild spirit to the mechanical beasts, but catch the eye and ire of the Overseers.
Beautifully written, The Engineer of Beasts brings together the best of Scott Russell Sanders's environmental wisdom with skilled world-building and beloved characters.
Indiana University Press, 9780253045874, 268pp.
Publication Date: September 1, 2019
About the Author
Scott Russell Sanders is an award-winning author of over 20 books of fiction and nonfiction with an environmental focus. Sanders's work has been compared to that of Emerson and Thoreau, as well as to that of Wendell Berry and Annie Dillard. He is Distinguished Professor Emeritus of English at Indiana University Bloomington.