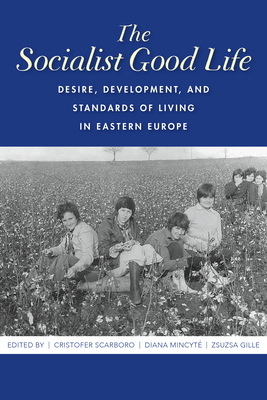 The Socialist Good Life (Hardcover)
Desire, Development, and Standards of Living in Eastern Europe
Indiana University Press, 9780253047762, 280pp.
Publication Date: January 1, 1900
Other Editions of This Title:
Paperback (6/1/2020)
* Individual store prices may vary.
Description
What does the good life mean in a "backward" place?
As communist regimes denigrated widespread unemployment and consumer excess in Western countries, socialist Eastern European states simultaneously legitimized their power through their apparent ability to satisfy consumers' needs. Moving beyond binaries of production and consumption, the essays collected here examine the lessons consumption studies can offer about ethnic and national identity and the role of economic expertise in shaping consumer behavior. From Polish VCRs to Ukrainian fashion boutiques, tropical fruits in the GDR to cinemas in Belgrade, The Socialist Good Life explores what consumption means in a worker state where communist ideology emphasizes collective needs over individual pleasures.
About the Author
Cristofer Scarboro is Professor of History at King's College in Wilkes-Barre, Pennsylvania. He is author of The Late Socialist Good Life in Bulgaria: Living and Meaning in a Permanent Present Tense. Diana Mincyte is Associate Professor of Sociology at the City University of New York-New York City College of Technology. Zsuzsa Gille is Professor of Sociology and Director of Global Studies at the University of Illinois at Urbana-Champaign. She is author of Paprika, Foie Gras, and Red Mud: The Politics of Materiality in the European Union and From the Cult of Waste to the Trash Heap of History: The Politics of Waste in Socialist and Postsocialist Hungary, which received honorable mention for the ASEEES Davis Center Book Prize; editor (with Maria Todorova) of Post-Communist Nostalgia; and co-author of Global Ethnography: Forces, Connections and Imaginations in a Postmodern World.