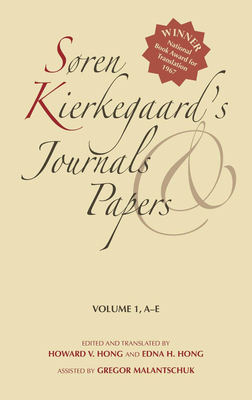 Søren Kierkegaard's Journals and Papers, Volume 1 (Hardcover)
A-E
Indiana University Press, 9780253182401, 572pp.
Publication Date: March 22, 1967
Other Editions of This Title:
Hardcover (8/22/1978)
Hardcover (8/22/1978)
Hardcover (8/22/1978)
Hardcover (3/22/1975)
Hardcover (3/22/1975)
Hardcover (3/22/1970)
* Individual store prices may vary.
Description
'I can be understood only after my death, ' Kierkegaard noted prophetically: the fulfillment of this expectation for the English-speaking world a century and a quarter later is signified by the English translation in authoritative editions of all his works by the indefatigable Howard and Edna Hong.... The importance of the Papirer] was emphasized by Kierkegaard himself.... The essentially religious interpretation he gave to his mission in life and his personal relationships is now documented clearly and exhaustively.... Obviously, these editions are essential for academic and large general collections." --Library Journal
From this point on, anyone interested in tracking down a Kierkegaardian theme will have to consult the Hong presentation as well as the books of Kierkegaard." --Annual Review of Philosophy
The translations are entirely excellent. One envies the Hongs their capacity in language, the breadth of their reading in Kierkegaard and his sources, and the dedication they brought to this Herculean task. The assistance of Gregor Malantschuk has contributed materially to the notes which serve as trenchant summaries of Kierkegaard's thought on the topics.... This is indeed a monumental work." --Review of Metaphysics
... an] astonishing labor of editing and translating... " --International Studies in Philosophy
Howard and Edna Hong have brought to the task solid scholarship, linguistic competence, an imaginative and useful arrangement of the material, and a scrupulous self-effacement before the work. No one could ask for more." --Citation of the Judges at the National Book Awards
We must be grateful to the Hongs for their enormous labor.... Kierkegaard's Journals and Papers are worth having for angry days, or 'inward' days; especially when they have been translated in as lively and sensitive a manner as are the texts in this first volume." --Nation
The incidental writings of S ren Kierkegaard, published in the twenty-volume Dani.