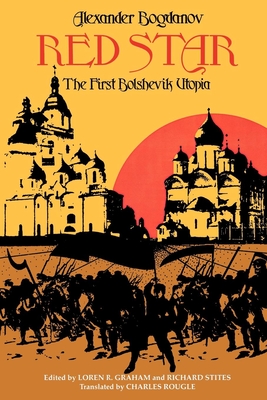 Red Star (Paperback)
The First Bolshevik Utopia (Soviet History)
Indiana University Press, 9780253203175, 257pp.
Publication Date: June 22, 1984
* Individual store prices may vary.
Description
" A] surprisingly moving story." --The New Yorker
"Bogdanov's novels reveal a great deal about their fascinating author, about his time and, ironically, ours, and about the genre of utopia as well as his contribution to it." --Slavic Review
"Bogdanov's imaginative predictions for his utopia are both technological and social . . . Even more farsighted are his] anxious forebodings about the limits and costs of the utopian future." --Science Fiction Studies
"The contemporary reader will marvel at Bogdanov's] foresight: nuclear fusion and propulsion, atomic weaponry and fallout, computers, blood transfusions, and (almost) unisexuality." --Choice
A communist society on Mars, the Russian revolution, and class struggle on two planets is the subject of this arresting science fiction novel by Alexander Bogdanov (1873-1928), one of the early organizers and prophets of the Russian Bolshevik party. The red star is Mars, but it is also the dream set to paper of the society that could emerge on earth after the dual victory of the socialist and scientific-technical revolutions. While portraying a harmonious and rational socialist society, Bogdanov sketches out the problems that will face industrialized nations, whether socialist or capitalist.
About the Author
Loren R. Graham is Professor of the History of Science at MIT and author of many books on the history of Soviet science. His most recent book is Moscow Stories (IUP, 2006).Richard Stites is Professor of History at Georgetown University. His most recent book is Serfdom, Society, and the Arts in Imperial Russia.Charles Rougle is Associate Professor of Slavic and Eurasian Studies at the University of Albany. He is editor of Red Cavalry: A Critical Companion and translator of many works from Russian.