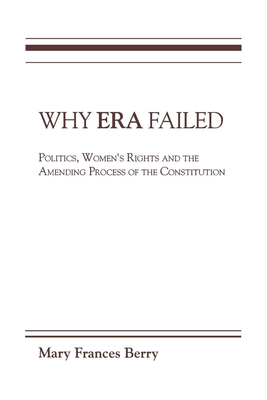 Why Era Failed (Paperback)
Politics, Women's Rights, and the Amending Process of the Constitution (Everywoman: Studies in History)
Indiana University Press, 9780253204592, 164pp.
Publication Date: February 22, 1988
* Individual store prices may vary.
Description
Why ERA Failed looks at the systemic problems of politics and the amending process. The author, Mary Frances Berry, considers the behavior of the two sides from the perspective of a historian and lawyer. She describes the history of the amending process, from the Constitutional Convention to the present day, and its application to the struggles for amendments concerned with the status of blacks after the Civil War, income tax, prohibition, child labor, and woman suffrage.
Berry concludes that ERA approval was problematic at best and defeat predictable. Supporters did too little of what is required for ratification of a substantive proposal too late. Furthermore, the large number of state ratifications gained was deceptive. Support was eroding instead of increasing in the final stages of the campaign.