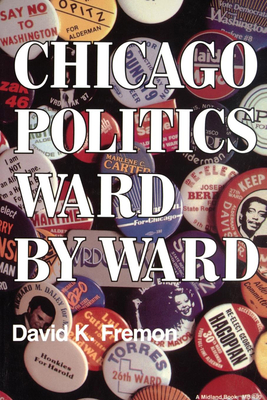 Chicago Politics Ward by Ward (Illinois) (Paperback)
Indiana University Press, 9780253204905, 388pp.
Publication Date: October 22, 1988
* Individual store prices may vary.
Description
It does not belong on a shelf but in the hands of community activists, politicians, reporters and campaign workers who want to get a better understanding of ward politics in Chicago." --Lawndale News-West Side Times
... enough lively tidbits in a breezily written way to keep any Chicago City Council political junkie awake." --Pioneer Press
... in Chicago Politics Ward by Ward, the system reveals the bizarre adaptations usually associated with life on a coral reef. If you can't believe these guys really exist, look again." --Chicago Magazine
All told, a most useful and entertaining book." --Crain's Chicago Business, p>
... a good, handy reference for those who need to know a bit about any particular city ward--and good fodder for Chicago's legions of political junkies." --Chicago Enterprise
Important demographic information and fascinating histories make it an interesting and often hilarious tour." --Near North News
... an energetic and ambitious book." --Illinois Issues
Crammed with information but written in a style as lively as the city it describes, this book is the most comprehensive guide ever written about Chicago politics and the unique characters who have given special flavor to each ward.