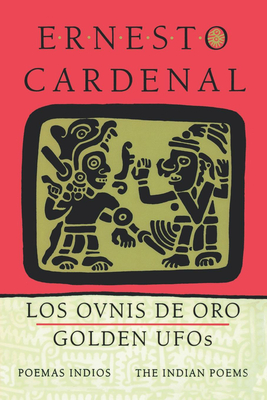 Golden Ufos (Paperback)
The Indian Poems: Los Ovnis de Oro: Poemas Indios
Indiana University Press, 9780253206770, 433pp.
Publication Date: March 22, 1992
* Individual store prices may vary.
Description
In 1898 Tahirassawichi went to Washington
"only to speak about religion"
(as he told the American government)
only to preserve the prayers.
And the Capitol did not impress him."
--from "Tahirassawichi in Washington"
Ernesto Cardenal, Nicaraguan poet, priest, and revolutionary, foresees a new order for humanity. Here in his Indian poems, Father Cardenal interweaves myth, legend, history, and contemporary reality to speak to many subjects, including the assaults on the Iroquois Nation, the political and cultural life of ancient Mexico, the Ghost Dance movement, the disappearance of the buffalo, U.S. policy during the Vietnam War, and human rights in Central America. Each text is rich with history, poetry, and spiritual insight.
This bilingual edition is the only complete collection of Father Cardenal's Indian poems in either Spanish or English. Cardenal has checked and approved the translations and the glossary of cultural and historical referents.
"Of epic proportions... The literal translation conveys the epigrammic style and didactic, political message.... Of timely interest." --Library Journal
"Priest and Nicaraguan revolutionary as well as poet, Cardenal epitomizes what makes literature live in Central America today. His poems are both sonorous and accessible, political and mystical." --Booklist
"... a spectacular work..." --Books of the South West
About the Author
ERNESTO CARDENAL, poet, priest, and revolutionary, foresees a new order for humanity. Early on, his opposition to the Nicaraguan dictator Somoza nearly cost him his life. With Thomas Merton's encouragement, he began his studies of Native American culture and history. He was later Minister of Culture in the Sandinista government. MONIQUE ALTSCHUL completed a thesis on Melville under Jorge Luis Borges and has taught at Iowa State University. Her Mitominas is a multimedia women's project. CARLOS ATLSCHUL, a psychologist, teaches at the Universidad de Buenos Aires. His essays on James Joyce have appeared in Sur.