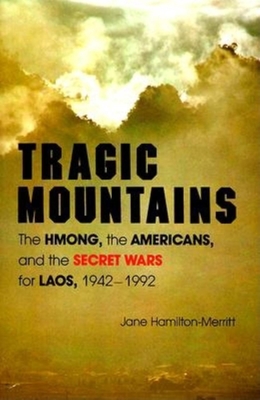 Tragic Mountains (Paperback)
The Hmong, the Americans, and the Secret Wars for Laos, 1942-1992
Indiana University Press, 9780253207562, 624pp.
Publication Date: November 22, 1999
* Individual store prices may vary.
Description
Jane Hamilton-Merritt, Nobel-nominated scholar and photojournalist, has followed the plight of the Hmong and the war in Indochina since the 1960s. The staunchest of allies, the Hmong sided with the Americans against the North Vietnamese and were foot soldiers in the brutal secret war for Laos. Since the war, abandoned by their American allies, the Hmong have been subjected to a campaign of genocide by the North Vietnamese, including the use of chemical weapons. Tragic Mountains moves from the big picture of international diplomacy and power politics to the small villages and heroic engagements in the Lao jungle. It is a story of courage, brutality, heroism, betrayal, resilience, and hope.
About the Author
Jane Hamilton-Merritt was nominated for a Pulitzer Prize in 1969 for her coverage of the Vietnam War, and in 1998 for the Nobel Peace Prize, in recognition of her long-standing efforts on behalf of the Hmong. Tragic Mountains is her account of the historic struggle of the Hmong and of their betrayal by the United States.