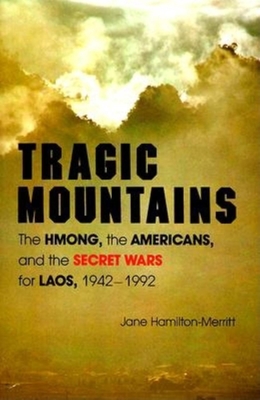 Tragic Mountains (Paperback)
The Hmong, the Americans, and the Secret Wars for Laos, 1942-1992
Indiana University Press, 9780253207562, 624pp.
Publication Date: November 22, 1999
* Individual store prices may vary.
Description
This is an important story, little acknowledged--let alone reported--in the world press. Highly recommended." --Library Journal
In this important work, Dr. Jane Hamilton-Merritt traces the support rendered to the United States by the Hmong people of Laos during the decades-long struggle for the soul of Indochina which we speciously call the Vietnam War. The result of fourteen years of meticulous research, Hamilton-Merritt's book pushes back the veil of official secrecy which has so long surrounded so much of the "secret war" in Laos." --Journal of American History
It is an impressive work, product of an enormous amount of research. The author is to be commended both for her dedication and her contribution to scholarship." --Institute of East Asian Studies, University of California
Tragic Mountains is a compelling read, a fine journalist's contribution to a little-known facet of America's Vietnam War, as well as her appeal to the American conscience to honour what she passionately believes to be her country's moral obligation to its former Hmong allies in highland Laos." --Journal of Southeast Asian Studies
I have read and reviewed hundreds of books on the Indochina wars, but few have had the impact of this seminal work, which vividly depicts the abandonment, betrayal, and attempted genocide of a proud and courageous people." --Infantry
Tragic Mountains is not only a fair and accurate account of the experiences of the Hmong], it is an engrossing tale of humanity under conditions of danger, heroism, and eventual defeat." --William E. Colby, former director of the Central Intelligence Agency
Tragic Mountains tells the story of the Hmong's struggle for freedom and survival in Laos from 1942 through 1992. During those years, most Hmong sided with the French against the Japanese and Ho Chi Minh's Viet Minh, and then with the Americans against the North Vietnamese.
This is a story of courage, tenacity, brutality, secrecy, incredible h.
About the Author
Jane Hamilton-Merritt was nominated for a Pulitzer Prize in 1969 for her coverage of the Vietnam War, and in 1998 for the Nobel Peace Prize, in recognition of her long-standing efforts on behalf of the Hmong. Tragic Mountains is her account of the historic struggle of the Hmong and of their betrayal by the United States.