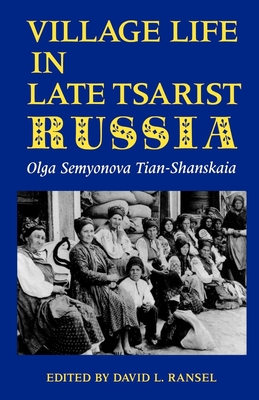 Village Life in Late Tsarist Russia (Indiana-Michigan Series in Russian & East European Studies) (Paperback)
Indiana University Press, 9780253207845, 175pp.
Publication Date: May 22, 1993
* Individual store prices may vary.
Description
"... a marvelous source for the social history of Russian peasant society in the years before the revolution.... The translation is superb." --Steven Hoch
"... one of the best ethnographic portraits that we have of the Russian village.... a highly readable text that is an excellent introduction to the world of the Russian peasantry." --Samuel C. Ramer
Village Life in Late Tsarist Russia provides a unique firsthand portrait of peasant family life as recorded by Olga Semyonova Tian-Shanskaia, an ethnographer and painter who spent four years at the turn of the twentieth century observing the life and customs of villagers in a central Russian province. Unusual in its awareness of the rapid changes in the Russian village in the late nineteenth century and in its concentration on the treatment of women and children, Semyonova's ethnography vividly describes courting rituals, marriage and sexual practices, childbirth, infanticide, child-rearing practices, the lives of women, food and drink, work habits, and the household economy. In contrast to a tradition of rosy, romanticized descriptions of peasant communities by Russian upper-class observers, Semyonova gives an unvarnished account of the harsh living conditions and often brutal relationships within peasant families.
About the Author
DAVID L. RANSEL is Professor of History at Indiana University and editor of the American Historical Review. He is author of Mothers of Misery: Child Abandonment in Russia and editor of The Family in Imperial Russia: New Lines of Historical Research.