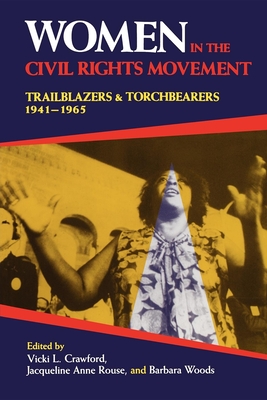 Women in the Civil Rights Movement (Paperback)
Trailblazers and Torchbearers, 1941-1965 (Blacks in the Diaspora)
Indiana University Press, 9780253208323, 320pp.
Publication Date: October 22, 1993
* Individual store prices may vary.
Description
" Women in the Civil Rights Movement] helps break the gender line that restricted women in civil rights history to background and backstage roles, and places them in front, behind, and in the middle of the Southern movement that re-made America. . . . It is an invaluable resource which helps set history straight." --Julian Bond
" . . . remains one of the best single sources currently available on the unique contributions of Black women in the desegregation movement." --Manning Marable
Rewrites the history of the civil rights movement, recognizing the contributions of Black women.
About the Author
VICKI L. CRAWFORD is Assistant Professor in the Department of English at Morehouse College. JACQUELINE ANNE ROUSE, Associate Professor at Morehouse College and Assistant Editor of the Journal of Negro History, is the author of Lugenia Burns Hope: Black Southern Reformer. BARBARA WOODS is Chair of the Department of History, Philosophy, and Religion at Hampton University.