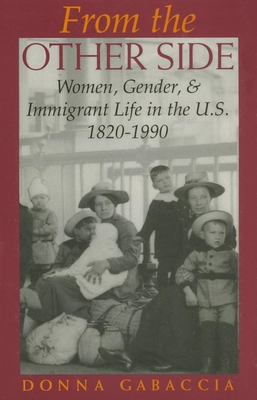 From the Other Side (Paperback)
Women, Gender, and Immigrant Life in the U.S., 1820-1990
Indiana University Press, 9780253209047, 216pp.
Publication Date: February 22, 1995
* Individual store prices may vary.
Description
"An impressive achievement by a scholar well-versed in the field." --Virginia Yans-McLaughlin
"Sweeping in scope and prodigious in research, Gabaccia is able to make insightful comparisons between these female newcomers in both the past and the present and between the experiences of the foreign-born and other minorities in American society." --John Bodnar
This long-needed study of women "from the other side" examines the experience of women immigrants as they came to the United Stated from all corners of the earth. Donna Gabaccia traces continuities that characterize women of both the nineteenth-century European and Asian migrations and the present-day Third World migrations. Foreign-born women, even more than men, experienced sharp tensions between communal, familial traditions and U.S. expectations of individualism and voluntarism. She also discovers strong parallels between the lives of foreign-born women and the women of America's native-born racial minorities.
About the Author
DONNA GABACCIA is Charles H. Stone Professor of American History at the University of North Carolina at Charlotte. She is the author of From Sicily to Elizabeth Street, Militants and Migrants, the bibliography Immigrant Women in the United States and editor of Seeking Common Ground.