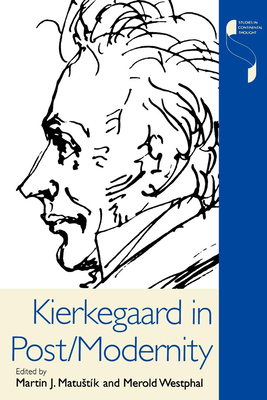 Kierkegaard in Post/Modernity (Studies in Continental Thought)
Paperback

* Individual store prices may vary.
Description
This volume represents a fine assessment of the continuing applicability of Kierkegaard's thought for the 21st century. --The Reader's Review
Matust k and Westphal have set some agile minds to the task of drawing out the threads of Kierkegaard's influence on postmodern and contemporary philosophy, from gender to politics and from Buber to Derrida. --Choice
. . . Usefully and effectively establishes Kierkegaard as a living presence in contemporary thought. It will help students of Kierkegaard attend to aspects of his thought that have eluded their attention, and it will challenge those engaged with contemporary continental philosophy not to shelter themselves from the provocations and interrogrations still uncomfortably pressing in Kierkegaard's writings. --International Philosophical Quarterly
The standard of the essays and the calibre of the contributors are uniformly high. This is indeed one of the better collections relating to Kierkegaard published in recent years, and should do much to extend discussion of his work . . . --Modern Believing
. . . a text of immense significance and value. . . . As a research tool it will surely prove indispensable. --S ren Kierkegaard Newsletter
It will be a helpful supplementary areading for teaching . . . the contemporary readings of Kierkegaard introduced here continue to reveal new and more exciting depths to his extraordinary philosophy. --Teaching Philosophy
These essays engage Kierkegaard in conversation with critical social theory and postmodern thought. Covering a diversity of themes, this collection still reflects consensus--Kierkegaard is to be taken seriously as a philosopher at the turn of the twenty-first century.
Indiana University Press, 9780253209672, 304pp.
Publication Date: October 22, 1995
About the Author
MARTIN J. MATUSTIK is Professor of Philosophy at Purdue University and author of Postnational Identity: Critical Theory and Existential Philosophy in Habermas, Kierkegaard, and Havel. MEROLD WESTPHAS is Professor of Philosophy at Fordham University. His books include God, Guilt, and Death: An Existential Phenomenology of Religion, and Suspicion and Faith: The Religious Uses of Modern Atheism.