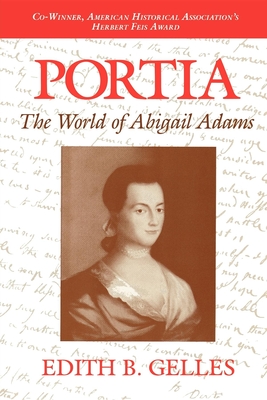 Portia (Paperback)
The World of Abigail Adams
Indiana University Press, 9780253210234, 256pp.
Publication Date: December 22, 1992
* Individual store prices may vary.
Description
"... best-of-all-biographies of Abigail Adams... " --American Historical Review
"Portia, a new study of Abigail Adams--modern feminism's favorite Founding Mother--is a refreshing change of pace." --San Francisco Chronicle
"... very well done, highly perceptive, and full of fresh ideas." --Wilson Library Bulletin
"... Adams's strength, courage, and wit (as well as her bouts of depression and gender conservatism) emerge more fully than they have in any previous work.... a well-rounded portrait of a remarkable figure." --Choice
"In this important and fascinating biography, Edith Gelles not only restores Abigail Adams to her rightful place at the center of her own story, she challenges the creaky conventions of 'traditional' male-defined biography." --Susan Faludi, author of Backlash
Portia, the first woman-centered biography of Abigail Adams, details the issues, events, and relationships of Adams's life. It is as much a social and cultural history of Adams's time as it is her life story.
About the Author
EDITH B. GELLES is a historian and affiliated scholar at the Institute for Research on Women and Gender at Stanford.