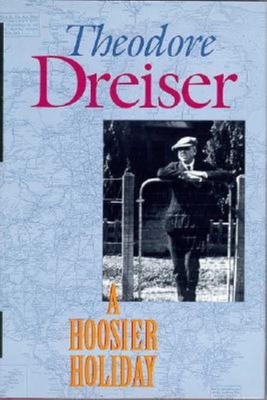 A Hoosier Holiday (Indiana) (Paperback)
Indiana University Press, 9780253211217, 560pp.
Publication Date: August 22, 1998
Other Editions of This Title:
Paperback (6/1/2016)
Paperback (3/30/2014)
Paperback (7/18/2009)
Hardcover (11/4/2015)
Hardcover (11/6/2015)
Hardcover (11/4/2015)
Hardcover (11/3/2015)
Hardcover (3/29/2014)
Hardcover (11/4/2015)
Hardcover (7/18/2009)
Hardcover (9/2/2015)
Paperback (1/28/2013)
* Individual store prices may vary.
Description
Though far from the author's usual musings, this is actually a forerunner to the American road novel and very well could have been one of the inspirations for Jack Kerouac... this is a fine addition to public and academic libraries." --Library Journal
Theodore Dreiser, road warrior... Dreiser's account of his homecoming will touch a familiar and responsive chord in anyone who has undertaken one.... In that, as in so much else in this book, as in the great body of all his work, Dreiser in his earnest, heartfelt, clumsy way speaks to the universal experience." --Jonathan Yardley, Washington Post Book World
Because the book] provides a portrait of the artist as a young man and describes the nation as a mosaic of individual cultures, Dreiser's journey offers several different lessons. Part travelogue, part autobiography, part collection of essays, A Hoosier Holiday lays out the landscape of a nation that ceased to exist once the highway unfurled across the map." --Publishers Weekly (starred review)
By 1914, Theodore Dreiser was a successful writer living in New York. He had not been back to his home state in over 20 years. When his friend Franklin Booth approached him with the idea of driving from New York to Indiana, Dreiser's response to Booth was immediate: "All my life I've been thinking of making a return trip to Indiana and writing a book about it." Along the route, Dreiser recorded his impressions of the people and land in words while his traveling companion sketched some of these scenes. In this reflective tale, Dreiser and Booth cross four states to arrive at Indiana and the sites and memories of Dreiser's early life in Terre Haute, Sullivan, Evansville, Warsaw, and his one year at Indiana University.
About the Author
Theodore Dreiser authored realistic portrayals of life in the United States. His two best known works are Sister Carrie and An American Tragedy, but he wrote over 15 other books--of fiction, travel, autobiography, poetry, plays, science and politics. Franklin Booth studied at the Art Institute of Chicago and the Art Student's League in New York. Best known for his intricate and precise drawings, he was a founder of the commercial art movement. His drawings appeared in magazines ranging from The Masses to Good Housekeeping.Douglas Brinkley, Director of the Eisenhower Center for Leadership Studies and Associate Professor of History at the University of New Orleans and NPR poetry editor, is the author of such award-winning books as Dean Acheson: The Cold War Years, 1953-1971, Driven Patriot: The Life and Times of James Forrestal (with Townsend Hoopes), and Majic Bus: An American Odyssey.