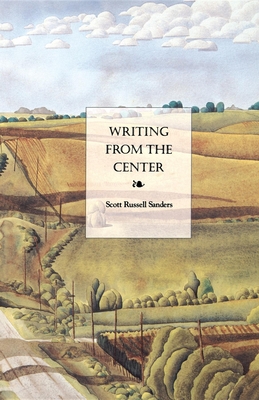 Writing from the Center
Paperback

* Individual store prices may vary.
Description
" . . . essays of substance and beauty, and they belong beside the work of Annie Dillard, Samuel Pickering, and Wendell Berry." --Library Journal
" Sanders] eloquently expresses his love of the land and the responsibility he feels for preventing further erosion of our natural resources . . . " --Publishers Weekly
"Skillfully written in a clear, unmannered style refreshingly devoid of irony and hollow cleverness, the author starts with everyday experiences and gleans from them larger truths." --The Christian Science Monitor
" These] essays are so good one is tempted to stand up and applaud after reading them. . . . Sanders is a modern day prospector who finds gems of spiritual meaning in both familiar and unusual places." --Body Mind Spirit
Writing from the Center is about one very fine writer's quest for a meaningful and moral life. Lannan Literary Award winner Scott Sanders (Secrets of the Universe, Staying Put, A Paradise of Bombs) seeks and describes a center that is geographical, emotional, artistic, and spiritual--and is rooted in place. The geography is midwestern, the impulses are universal.
"The earth needs fewer tourists and more inhabitants, it seems to me--fewer people who float about in bubbles of money and more people committed to knowing and tending their home ground." --Scott Russell Sanders, from the book
Indiana University Press, 9780253211439, 216pp.
Publication Date: July 22, 1997
About the Author
Scott Russell Sanders is Professor of English at Indiana University, Bloomington. He has published numerous other titles--fiction, nonfiction, and children's books.